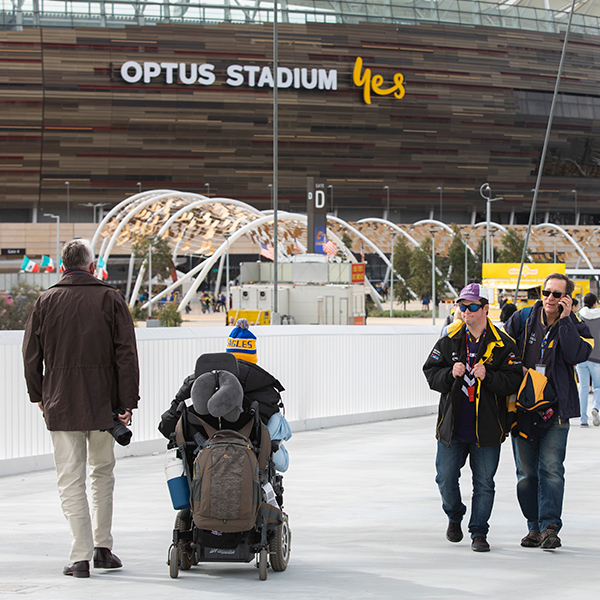 Accessibility
We are committed to ensuring that everyone has the same opportunities to enjoy their event experience.
Optus Stadium caters for everyone regardless of age, experience or ability. The aim of the design isn't only to meet specific codes but rather to strive to exceed them as a minimum standard and create an inclusive venue for all fans.
Building Design
Optus Stadium is specifically designed so that our services, information and facilities are accessible to all.
Individuals Requiring Universal Access (IRUA) features of the new Optus Stadium:
360 degree access across all general admission levels
IRUA seating throughout the Stadium
Over 60 Universal Accessible Toilets (UAT)
3 Changing Places toilets – The first stadium in Australia to have more than one. Features include:

Height adjustable adult-sized changing bench
Mobile hoist system
Space for a user and up to two carers
Electric doors

450 wheelchair positions (100 more than required according to the 2013 National Construction Code) and 327 Enhanced Amenity Seating for people that have mobility requirements that are not in wheelchairs
Wheelchair positions on all levels with flexible seats for carers and guests, accommodating groups of all sizes
9 times more permanent ACROD bays than required (2013 National Construction Code)
12 lifts throughout the Stadium
Accessible Parking
Hold an ACROD permit? Please click here for further information on how to register your interest in ACROD parking at the Stadium.
Transperth offers a range of accessible services and the Transperth fare is included in your event ticket. For more information, click here.
Accessible Ticketing
Ticket bookings for accessible needs visitors, including wheelchair and/or companion card requirements are available to be made through the Ticketmaster's Accessible Seating line.
For further information phone 1300 446 925 or email [email protected]
If emailing, please ensure you include the: Event Name, Venue, Date and Time along with your contact details. Service Hours: Monday - Saturday 9am - 8pm; Sunday 9am - 5pm AEST (closed Christmas / Boxing Day)
For further information on accessibility at Optus Stadium, see our Access and Inclusion Fact Sheet or contact us with any feedback.