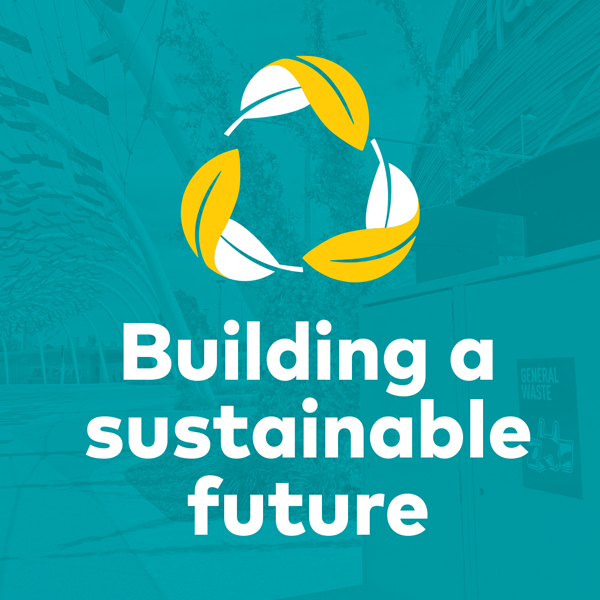 Sustainable Future
At Optus Stadium, we care about our impact now and in the future.

Optus Stadium is committed to protecting the environment through:
prevention of pollution

using environmentally friendly products and technology

minimising the use of non-reusable resources including energy and potable water

minimising waste

developing viable recycling opportunities; and

ensuring proper handling and disposal methods are used.
Environmental accreditation and certification
Optus Stadium operates an accredited ISO 14001:2015 Environmental Management System. Optus Stadium is the first Western Australian venue to receive this certification.

As part of our Environmental Management Plan we set annual objectives and targets to reduce utility consumption, waste and to increase how much waste we capture.


Waste management initiatives
The Stadium has a strong track record of waste recovery, and each year since opening has reduced the amount of waste that goes to landfill.

Thanks to our fans and visitors, we've gone from 77 per cent recovery in 2018, to 81 per cent recovery in 2023.

Optus Stadium has a comprehensive Waste Management Plan. The key sustainability objective of the waste management plan is to reduce the amount of waste generated and increase the amount that is recovered, reused and or recycled.

The Western Australian Government has just released its new Waste Strategy. The vision for this strategy is - A sustainable, low-waste, circular economy in which human health and the environment are protected from the impacts of waste.

Optus Stadium are embracing the circular economy model. It has been long-standing sustainability concept and takes us away from the linear 'take, make, use and dispose' model.

Optus Stadium partners with Veolia to deliver a total waste management service focused on resource recovery and diversion from landfill.
Sustainable transport:
More than 80 per cent of patrons accessing the Stadium and Stadium Park utilise public transport.

The Stadium Park has bike parking spaces to accommodate up to 500 bikes.
Containers for Change:
On 21 July 2023, Optus Stadium announced its further commitment to its Waste Management Plan with the introduction of the WA Return Recycle Renew Limited initiative, Containers for Change.
Over 460 Containers for Change bins will be installed throughout general public areas at Optus Stadium and surrounding Stadium Park.
Patrons are encouraged to place eligible drink containers inside the marked bins. Containers will then be collected and sent to the Veolia materials recovery facility.
This initiative will assist Optus Stadium to increase the volume of container recovery levels to 90% in the short-term, with a view to achieving 100% in the future.
Plan for Plastics
At Optus Stadium we've been working toward a more sustainable, plastic-free future since opening in 2018.

In June 2021 the WA Government announced its Plan for Plastics.

Plastics have become part of our everyday life. They are inexpensive, convenient and used in many applications. However, the single-use nature of many of these plastics contributes to a wasteful, take-make-dispose economy.

The Plan for Plastics was released in response to community feedback and provides a roadmap towards a more sustainable, plastic-free WA. The plan is consistent with the waste hierarchy by promoting actions that:

prioritise avoiding single-use plastics

replace single-use items with reusable alternatives wherever possible

promote non-plastic single-use alternatives that can be recovered, recycled or composted, if it is not possible to use reusable items

minimise litter or contamination of waste treatment facilities by not using single-use plastic
The plan includes introducing regulations to ban single-use plastic items in a two-stage approach. Stage 1 (short-term actions) introduces regulations on 1 January 2022, with Stage 2 (medium-term actions) by 1 January 2023.