Balls, Banquets and Gala Dinners
Make your next ball, banquet or gala dinner one for the ages! Give your guests a spectacular evening with an award-winning dining experience with stunning views across the playing surface or out towards the Perth city skyline from one of Optus Stadium's premium function rooms.
Optus Stadium has the facilities that you would expect from any conference centre or five-star hotel, but with a twist. We can transform any of our function rooms into an extraordinary gala dinner or ball venue: the only limit is your imagination – challenge the team to give your guests something to remember!
Events of over 800 guests are invited to personalise the Stadium's world-class LED lighting system and light the Stadium's exterior and interior with their preferred colours – there is nowhere else in Australia that you can theme a stadium in such a way!
All of our banquet food is produced in-house, served with all the grandeur and poise that you would expect from a top-rated restaurant. Complimentary menu tastings are available for gala dinners of 500+ guests.
Optus Stadium is in the business of creating magical experiences. One of our professional event managers will help you organise your next gala dinner in Perth and leave a lasting impression on your guests.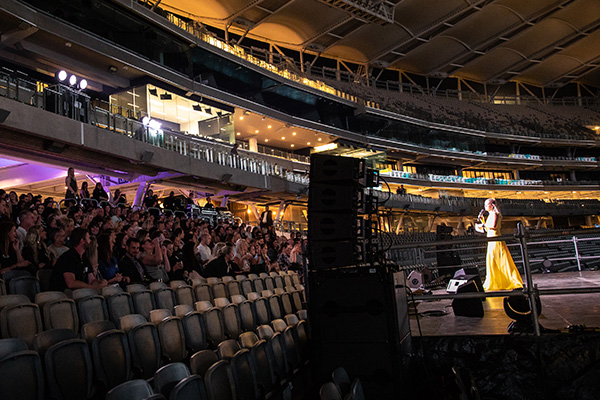 Capture the moment
Hold onto the moments of the night by adding a photo element to your event with a professional event photographer or a fun photobooth. Our recommended photographers will do more than just capture photos, they will produce lasting imagery that will represent your brand and showcase your event.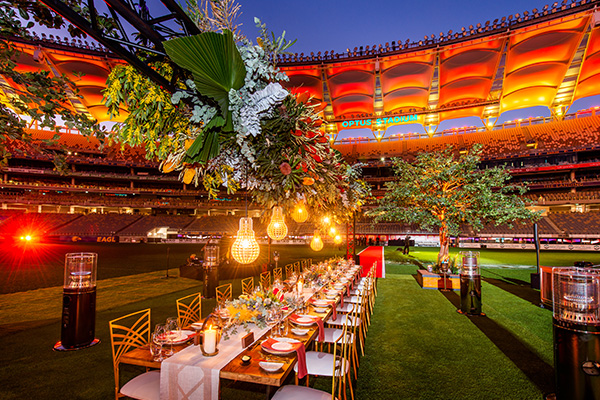 Furnish your space
Build a relaxing place for guests to escape or enjoy a beverage during the night. Adding a chill zone or lounge area to your event will add another layer to your event for your guests to experience.
Easy travel options for your guests
Parking
Unlike other Perth ball venues, you can reserve carparks at Optus Stadium – whether you need 100 bays or 800 bays guaranteed, your event coordinator can ensure your guests get free parking in the stadium precinct which will also include dedicated event staff to assist with wayfinding from the Stadium carparks to the function rooms.
Taxi / Rideshare
Ball, Banquet or Gala Dinner guests coming to Optus Stadium by taxi or rideshare vehicles can be picked up or dropped off in the Marlee Loop car park.
Not sure where to start? We can help.
Contact our team to start planning an unforgettable ball, banquet or
gala dinner together.
Call 08 6247 4946 or get started today.