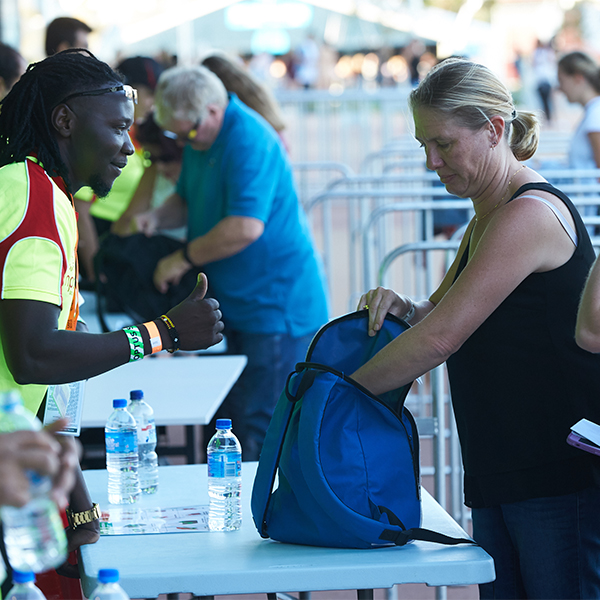 Safety & Security
The safety and security of all Optus Stadium patrons is our priority.
Please Note: All persons entering the Stadium may be subject to bag checks and/or random wanding searches by Event Security personnel at all entry points.
Smoking notice: Optus Stadium is a smoke-free venue and smoking within the venue is prohibited. This includes E cigarettes and other electronic imitations or simulation devices. A designated smoking area is available for all events.
Items prohibited from entering Optus Stadium include but are not limited to:
Glassware, glass bottles or cans, including spray cans.
Alcoholic beverages.
Illegal substances, including illegal drugs.
Flares, fireworks, weapons, explosives or smoke bombs.
Laser pointers.
Knives or other dangerous weapons.
Pets or animals, other than assistance dogs.
Folding chairs or stools.
Cameras and or recording devices (for commercial purposes) including tripods. Personal photography is permitted, provided photographs are for non-commercial use.
Remote control vehicles, including drones (or any such aircraft).
Metal flag poles, extendable flag poles and / or flag poles of more than 1.6 metres in length.
Oversized banners and flags which are deemed to cause public nuisance.
Musical instruments and noise makers, including whistles, hooters, horns, drums, and vuvuzelas.
Confetti or shredded paper.
Balloons or other inflatable items.
Scooters, roller skates, skateboards, segways and push bikes.
Electronic cigarettes (e-cig or e-cigarettes), personal vaporisers, electronic nicotine delivery systems, or other battery powered vaporisers are not permitted to be consumed anywhere in Optus Stadium.
Eskies and bags of larger dimensions that are unable to be stored under the seats.
Other items as determined by Optus Stadium that may cause damage, harm or public nuisance
View the full Stadium Conditions of Entry.