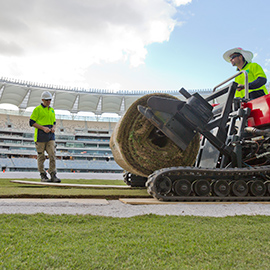 Turf installation fact sheet
Turf installation fact sheet
Turf installation fact sheet
Optus Stadium will be a world-class, 60,000 seat multi-purpose venue capable of hosting major sporting and entertainment events.
A stabilised natural turf will be used for the Optus Stadium playing surface, which combines a natural couch grass mixed with rye and artificial grass. This combination provides outstanding stability and durability, and it also responds well to regular maintenance – an imperative to meet the demands of Optus Stadium.
Playing surface preparation and installation
Playing surface preparation
Construction of the playing surface at Optus Stadium is now complete and included installation of below ground services, irrigation systems, power cable equipment and drainage systems.
Installation of footings for drop-in cricket wickets and goal posts is also complete.
Growing medium was distributed across the playing surface and lazer levelled prior to the installation of the turf.
Synthetic turf was installed around the perimeter of the playing surface.
Turf preparation and installation
The stabilised natural turf has been grown at a local turf farm in Serpentine and included daily soil monitoring and testing.
Turf was harvested from the turf farm in 10 metre long x 1 metre wide sections and delivered to site.
Turf was rolled out onto the playing surface within 18 hours of harvesting and consolidated in place by a three tonne roller.
Turf was trimmed and hand groomed with rakes before being watered.
Maintenance
Five growlight rigs will be used as part of the turf maintenance program. These will be positioned on the northern portion of the playing surface during the winter months when sufficient natural light is not available.
Replacement turf will be available and maintained off site to respond to the demands of Optus Stadium.
The playing surface will be protected when concerts are held or when drop-in seats are used for rectangular events.
Two turf specialist will maintain the playing surface throughout the operational phase.
Key facts
Over 18,000m2 of turf will be laid.
Same turf used at ANZ Stadium (Sydney), Eden Park (Auckland), Gabba (Brisbane), nib Stadium (Perth) and MCG (Melbourne).
The natural component of the turf is wintergreen couch grass with rye added in the winter.
10x1m – the dimension of the pre-rolled turf sections.
5 growlights used for maintenance.