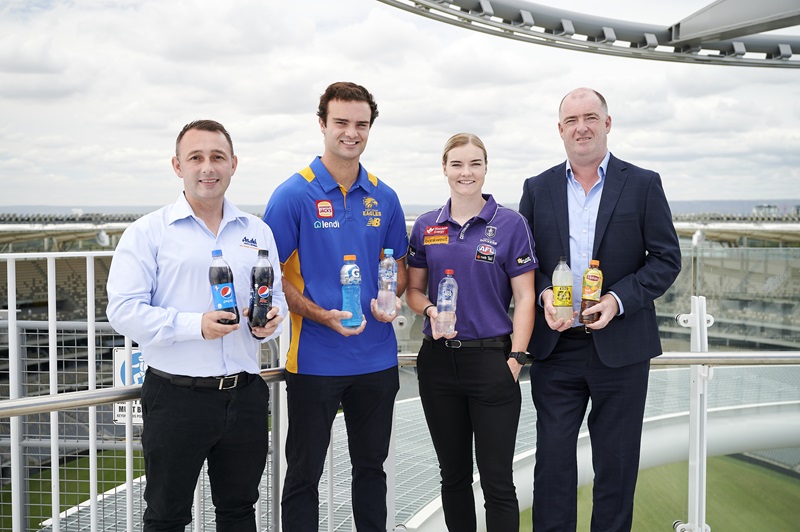 We're pleased to announce a new partnership with Asahi Lifestyle Beverages that will see Western Australians served Australia's best non-alcohol drinks at Optus Stadium.
The exclusive partnership will see Pepsi Max, Solo, Schweppes, Gatorade, Cool Ridge water, and more enjoyed by patrons across every event at the stadium.
Optus Stadium CEO Mike McKenna welcomed Asahi Beverages to the stadium. "The strength and depth of Asahi Lifestyle Beverages' non-alcohol portfolio is a huge factor for us. "We also have a strong focus on sustainability and making sure we minimise our carbon footprint. Asahi Beverages' sustainability commitments, including their focus on recycled content in their bottles, will help ensure we offer Optus Stadium visitors beverages that are increasingly sustainable."
Asahi Lifestyle Beverage CEO Nigel Parsons said it's a major deal between the two partners. "We are tremendously excited to be getting more of Australia's best non-alcohol drinks in the hands of Western Australian sport and entertainment fans, while increasing the variety of beverages on offer. Our drinks are already well-loved in Western Australia, but this will give them a huge boost. We'll also use our iconic drinks to help bring the partnership to life for fans with new competitions, promotions and activations at the stadium."
Last year, Asahi Lifestyle Beverages entered a partnership with the AFL and its clubs – including West Coast and Fremantle - for Pepsi Max and Solo to become the league's official soft drinks, Cool Ridge the official water and Gatorade the official sports drink.
Optus Stadium is home to the West Coast Eagles and Fremantle Football Clubs and also hosts Test and Big Bash League cricket and special events including NRL and Rugby Union. The venue will host Sheeran in March with more concerts to be announced early in the year. Asahi Lifestyle Beverages products will also be served at the 600-plus meetings and special events held in the venue each year including gala dinners, conference and cocktail parties, and will be available in the City View Café and the OZONE.