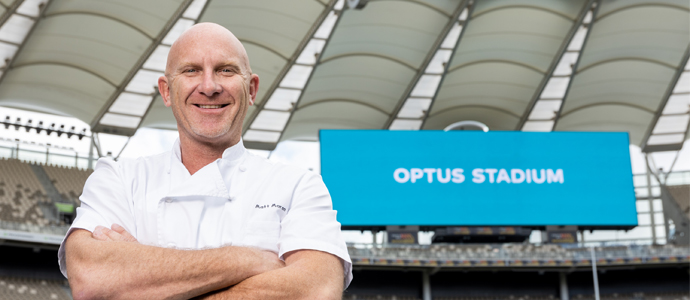 World-renowned Australian chef and restauranteur Matt Moran has joined Optus Stadium as a Culinary Ambassador.
With a career spanning more than 30 years in the Australian food industry, Matt Moran brings his expertise and inspiration to Optus Stadium which has just been crowned Venue of the Year 2022.
"I am thrilled to be partnering with the team at Optus Stadium and I'm look forward to sharing my food philosophy with the chefs who cater for such large numbers of guests at every event," Matt said.
Matt's menus will initially be available in premium event spaces during match days and as part of the Stadium's private functions on non-match days and will later be expanded to private suites including gala dinners, conferences and banquets.
"At the heart of everything I do is a passion for quality produce that is fresh and seasonal, and I'm excited by the challenge of bringing my food philosophy to life starting with the suites and some of the lounges at the Stadium over a range of special events."
Optus Stadium CEO Mike McKenna said the venue had already established a reputation as a top-class dining option in Perth and the addition of Matt Moran as Culinary Ambassador would add greatly to the experience.
"The fact Optus Stadium has just been recognised as Venue of the Year on the international stage shows that we have incredible chefs working within our team, and now everyone is excited by the potential to learn and grow with an Australian icon like Matt Moran joining us as Culinary Ambassador," Mr McKenna said.
Matt grew up on a classic Aussie dairy farm and still runs a property in the Central Tablelands of NSW, which supplies beef and lamb to his restaurants. He was the pioneer of "paddock to plate" philosophy in Australia and believes in the importance of everyone understanding the origins of the food being served on their plate.
"Food, farm and family are the three most important things for me in life – footy might come in fourth – but it's my love for quality, seasonal and locally sourced produce that drives me to keep creating exceptional food experiences," Matt said.
"I love the diversity of our landscape and the fantastic produce that we have to work with. The quality and the variety is something we're known for. Each stadium across Australia will be showcasing this seasonally within its food offerings and for those attending an event at Optus Stadium, there will be beautiful Harvey beef steak tartare and a tender Marybrook slow-roasted lamb shoulder on the menu.
"I know Optus Stadium is committed to sourcing locally grown, fresh food, which is delivered by incredible chefs, so I can't wait to share some of our ideas and offerings and try to lift the Optus Stadium food offering even further."