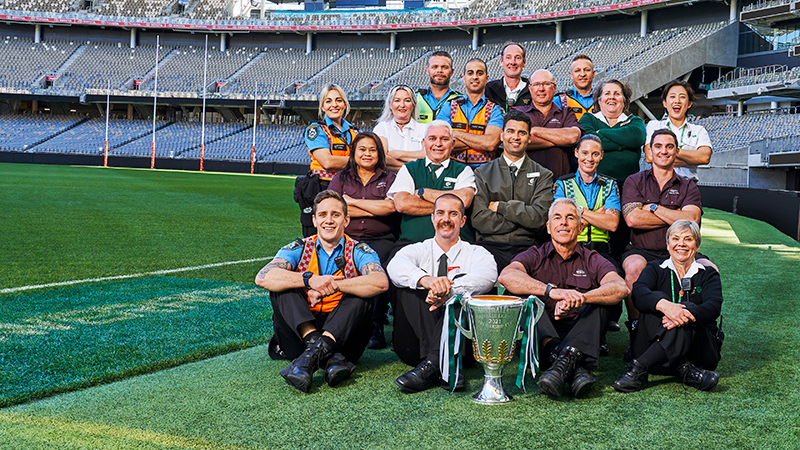 Plan your journey to Optus Stadium this weekend!
Every bus and train to be in use across the network along with 500 Transperth staff
All AFL Grand Final tickets include public transport
Commuters urged to plan their journeys ahead of time
Public transport preparations for this Saturday's AFL Grand Final at Optus Stadium are well underway, with every bus and train to be out on the network.
More than 130 customer service staff, 100 transit officers, 150 railcar drivers and hundreds of bus drivers plus hundreds more supporting maintenance staff, network controllers, service planners and other key operational staff will be working to help commuters get where they need to be, in an event comparable to the size of last year's Highway to Hell.
AFL Grand Final spectators are being urged to plan their journey and allow plenty of time to get to the 5.15pm game, including being encouraged to arrive early and enjoy the pre-game entertainment.
Buses will start running four hours before bounce-down and continue two hours post game.
Every Armadale Line train will stop at Perth Stadium Station along with suburban special-event bus services, and express Fremantle and Joondalup line train services will run to the stadium both before and after the match.
Comments attributed to Transport Minister Rita Saffioti:
"This Saturday we will have every train and bus out on the network along with more than 500 Transperth staff to help passengers get where they need to go.
"Free public transport is included in all Grand Final tickets and we anticipate the majority of the 60,000 strong crowd will catch public transport to the game.
"I encourage everyone to plan ahead and make sure you leave plenty of time to make it to the game.
"The services will leave approximately four hours before the game and run approximately two hours post game to make it easier and more convenient for public transport users."
Click here to Plan Your Journey