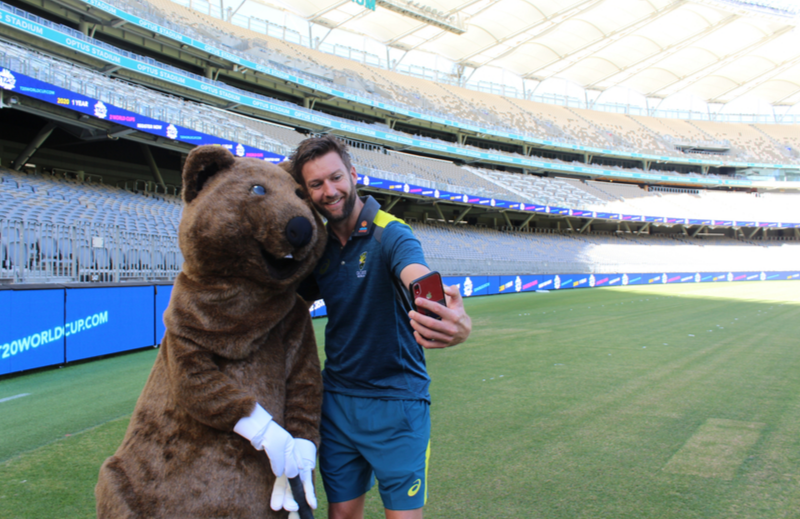 Ticket sales open for ICC Men's T20 World Cup cricket tournament
Perth to host six matches at Perth Stadium; first match October 24, 2020
Ticket prices from $20 for adults; all children's tickets $5
Opening Perth blockbuster to feature India versus South Africa
Buy tickets now to the ICC Men's T20 World Cup matches
Fans around the world can now secure tickets to see some of the world's best male cricketers play at Perth Stadium for the International Cricket Council (ICC) Men's T20 World Cup in 2020.
Tickets went on sale today for all ICC Men's T20 World Cup matches, including six to be played in Western Australia at Perth Stadium. It is the first time Australia has hosted the showpiece tournament.
Matches played in Perth
The men's matches begin in Perth on Saturday, October 24, 2020, featuring India versus South Africa, which is expected to be one of the biggest of the tournament and broadcast in prime time to a huge TV audience in India.
It will be followed by a double-header on Monday, October 26, 2020 featuring Afghanistan and 2016 finalists England, against respective qualifiers.
Another double-header on Wednesday, October 28 will see Afghanistan play a qualifier, before hosts Australia take on defending champions the West Indies. The West Indies will play the final Perth fixture against a qualifier under lights on Friday, October 30, 2020.
The State Government, through Tourism WA, successfully bid to host the Men's and Women's T20 World Cup matches, with the men's matches alone expected to boost the Western Australian economy by approximately $20 million.
Cricket fans, you can now secure your ICC @T20WorldCup tickets 🏏
We're hosting 6 matches in October 2020, get in early and buy now!
Tickets 👉 https://t.co/C7wZHRazm9 #T20WorldCup pic.twitter.com/CzbD3Plb4K

— Optus Stadium (@OptusStadium) October 18, 2019
Tickets are also available for the five Women's T20 World Cup games to be played in Perth at the WACA Ground in February 2020. The games will feature defending champions Australia as well as eight of the additional nine competing teams.
Prices start from $20 for adults, with children's tickets to all matches just $5 while tickets for Australia's clash with the West Indies, start from $30 for adults.
Ticket inclusive travel packages are on offer for out-of-state fans. For more information, go to www.icctravelandtours.com
Comments attributed to Tourism Minister Paul Papalia:
"I would encourage people to get their tickets now to see this explosive style of cricket, right here in Perth at what has been crowned the most beautiful stadium in the world.
"Perth is home to a lot of expats from some of the countries playing in the tournament in Perth including the UK, South Africa and India.
"This is a great opportunity for people to buy tickets to see their home country in action and invite extended family and friends from these countries to come for a visit to see our beautiful State and experience some world-class international sporting action.
"We're thrilled to be working closely with Tourism Australia who have announced a $5 million commitment to promoting the ICC T20 World Cup.
"Marketing the event in India will be a big focus of this funding, which is great news for WA, given that the Indian team will be starting their World Cup campaign here in Perth.
"Advertising material featuring the Quokka as the '12th man' is now airing across India.
"We are looking forward to welcoming thousands of fans to experience the excitement of this spectacular sport alongside WA's adventure, culture and nature attractions."
Comments attributed to Sport and Recreation Minister Mick Murray:
"Perth Stadium can easily stake a claim as one of the best places in the world to watch cricket, and we're delighted to welcome the top international players here for the game's most action packed tournament.
"The tournament offers remarkably good value for money for families. With all kids' tickets just $5, thousands of Western Australian families will be able to enjoy affordable world-class cricket experiences when the action kicks off next October."