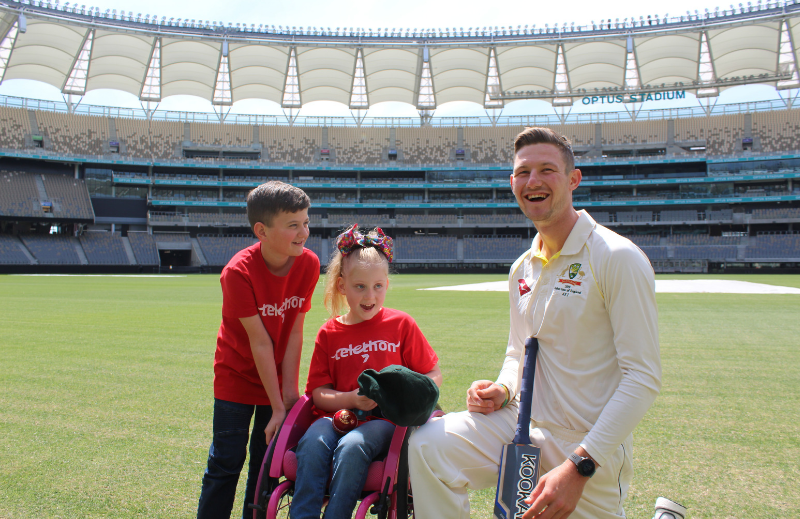 Cricket Cricket Australia (CA) today announced Telethon as the official Charity Partner for the historic Domain Day-Night Perth Test against New Zealand in December.

Teaming up with Telethon, a Western Australian institution for more than 50 years, is an important partnership for CA to build connections with the local community.

The three-year partnership with CA and Telethon is a commitment which will financially help support the medical and social welfare of children and young people as well as fund research into children's diseases.
Cricket Australia Chief Executive Kevin Roberts said:
"We are very proud to partner with Telethon and we know firsthand that sport can play an integral role in having a positive impact in the local community, particularly when it faces certain challenges."

Western Australian Cricket Association Chief Executive Christina Matthews said:

"Telethon is such a huge part of the West Australian culture, just like cricket. This three-year partnership shows that Cricket Australia is invested in supporting the WA community in a meaningful way."

Australian all-rounder Mitch Marsh spent the morning playing cricket in the middle of the world-class Perth Stadium with the Telethon kids and Fat Cat.

Also announced today was for every ticket sold to the Gillette T20 International in Perth or Perth Day-Night Test match over the Telethon weekend, Cricket Australia will donate $5 to Telethon.
Telethon CEO Marie- Anne Keefe said:
"Bringing together WA's most loved charity with WA's most loved summer sport seems a marriage made in heaven.
"Telethon is thrilled to partner with Cricket Australia for a history making test match which will excite fans and see Perth dig deep at games, knowing their donations will go straight back into the community to help children who really need it. We are so grateful to Cricket Australia for helping Telethon change the lives of sick and disadvantaged kids across our state through funding vital services providing better, brighter futures for our young people."
From now until the start of the Test Match, Cricket Australia and the WACA will be raising funds for Telethon, donating auction items over the Telethon weekend, hosting open training sessions for gold coin donations and providing fans with a number of ways to donate throughout the Test Match.
In the event of the Perth Day-Night Test extending to Day Five, fans will be able to gain entry to the ground with a gold coin donation to Telethon.