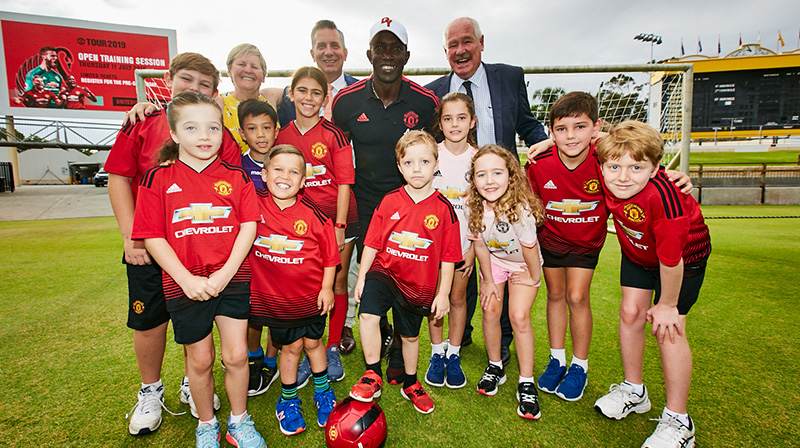 Manchester United open training session to be held at the WACA Ground
Limited tickets available for just $5 via a special pre-sale opportunity
Ticket proceeds go to Telethon and Manchester United Foundation
Red Devils to bring their entire squad and be based in Perth for 10 days
The world's most famous football club, Manchester United have announced a training session open to the public will be held at the WACA Ground on the evening of Thursday, July 11.
For just $5, members of the public can buy a ticket to watch their heroes train knowing that proceeds are jointly going to Telethon and the Manchester United Foundation.
Telethon and the Manchester United Foundation have formed a partnership with Inclusion Solutions to fund a program that gives physically and intellectually disabled children the opportunity to integrate with able-bodied children in a team soccer league competition in Western Australia.
Manchester United will bring their entire squad to Perth in July and spend 10 days in the State, as part of their pre-season training for the 2019-20 season.
The team will play friendly matches against current A-League leaders, Perth Glory on Saturday, July 13 and then take on traditional rivals, Leeds United on Wednesday, July 17 in two massive games at Optus Stadium.
Manchester United's 10-day trip to Perth will attract thousands of visitors to the State, with nearly 12,000 tickets purchased by interstate and international fans from 26 countries.
There will also be a program of special fan activities including a Manchester United legends dinner, a Manchester United legends corporate golf day and a Swan Valley supporters celebration.
To join the special open training pre-sale, purchase tickets for both games, and for the program of special events, fans should visit http://www.unitedinperth.com.au
The pre-sale register closes at 5pm (AWST) tomorrow (April 2) and all registrants will receive a special link to use when ticket sales commence on Wednesday, April 3 at 10am (AWST).
Manchester United has one of the biggest supporter bases in the world with more than 600 million fans across the globe. The club also has a strong global social media reach with more than 114.1 million followers on Facebook, Instagram and Twitter combined.
Manchester United's trip to Western Australia is supported by the State Government, through Tourism WA and VenuesWest, and by Optus Stadium operator, VenuesLive.
Comments attributed to Tourism Minister Paul Papalia:
"Manchester United is one of the world's biggest and most loved sporting clubs, and having them in Perth for 10 days this July will be a huge drawcard for visitors.
"Ticket sales are already showing a high level of interest from interstate and overseas fans which will help fill our restaurants, bars, cafes and hotel rooms.
"It's not just the two matches that will attract visitors. The club will be involved with a range of activities including this open training session, a legends corporate golf day, a day in the Swan Valley and a legends dinner which will give visitors reasons to stay longer and enjoy what Western Australia has to offer."
Comments attributed to Sport and Recreation Minister Mick Murray:
"The open training session will provide a wonderful opportunity for local soccer fans, particularly kids, to see their heroes up close.
"With all proceeds supporting Telethon's inclusive children's football league, there is an even better reason to get out and see some of the world's best in action at the WACA."
Please note
Tickets for the Manchester United Open Training Session are exhausted. Tickets to both matches are still available.