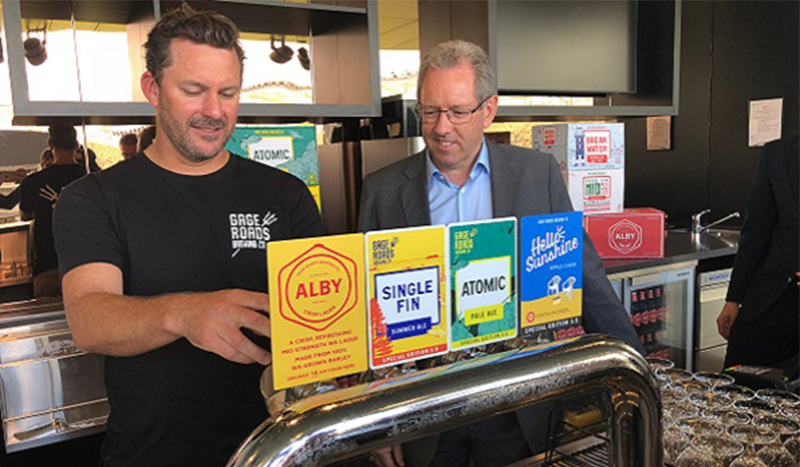 Fans can choose from three beers and one cider on offer throughout General Admission areas.
The price of beer will be the same as Domain Stadium and the WACA.
Fans attending events at Optus Stadium will have unprecedented choice of beers and cider, delivered fresh from Western Australia's own Gage Roads Brewing Company.
In General Admission areas fans will be offered a variety of mid-strength lagers, ales and cider:
Single Fin Summer Ale Special Edition 3.5% – a light-bodied ale with punchy tropical aroma;
Atomic Pale Ale Special Edition 3.5% – a full-bodied, hoppy pale ale;
ALBY Crisp Lager – a 3.5%, classic, no fuss Western Australian-style lager brewed using 100% WA-grown malted barley; and
Hello Sunshine Cider Special Edition 3.5% – a refreshing apple cider.
Fans will pay the same price as they have previously at Domain Stadium and the WACA Ground. A 425-millilitre cup of beer at the multi-purpose Optus Stadium will be $8.50.
Optus Stadium CEO Mike McKenna said the wide range of products available is testament to the Stadium's fans first focus.
"Gage Roads is a fantastic local company, producing quality beers. We're thrilled to be providing a broad selection for patrons, including two special edition beers that will only be poured at Optus Stadium.
Stadium fans will have a choice of beverages that are brewed just 14 kilometres away at a price consistent with other major sporting venues."
All 10 Gage Roads products will be available throughout premium areas of the Stadium, including the full-strength Alby Draught lager, 2016 AIBA Champion Australian Beer Little Dove, Sleeping Giant IPA, Narrow Neck Pale Ale, and Breakwater Australian Pale Ale.
Gage Roads injects $22 million a year into the local economy and is the biggest buyer of West Australian grown malted barley, supporting hundreds of local businesses across the State.
Gage Roads Managing Director, John Hoedemaker said his team is thrilled to be supplying their range of products to Optus Stadium.
"It's a very exciting time for our company. We are looking forward to providing fans with a selection of our locally crafted beverages to enjoy while they are experiencing the very best sport and entertainment at this magnificent venue."
Optus Stadium will open this Sunday with the Open Day, followed by the Gillette One-Day International between Australia and England on Sunday 28 January, an AFL Women's match on 10 February, Ed Sheeran concerts on 2 and 3 March, the Perth NRL Double Header on 10 March, the AFL Premiership Season from 25 March, Nitro Circus on 22 April 2018 and Taylor Swift on 19 October 2018.