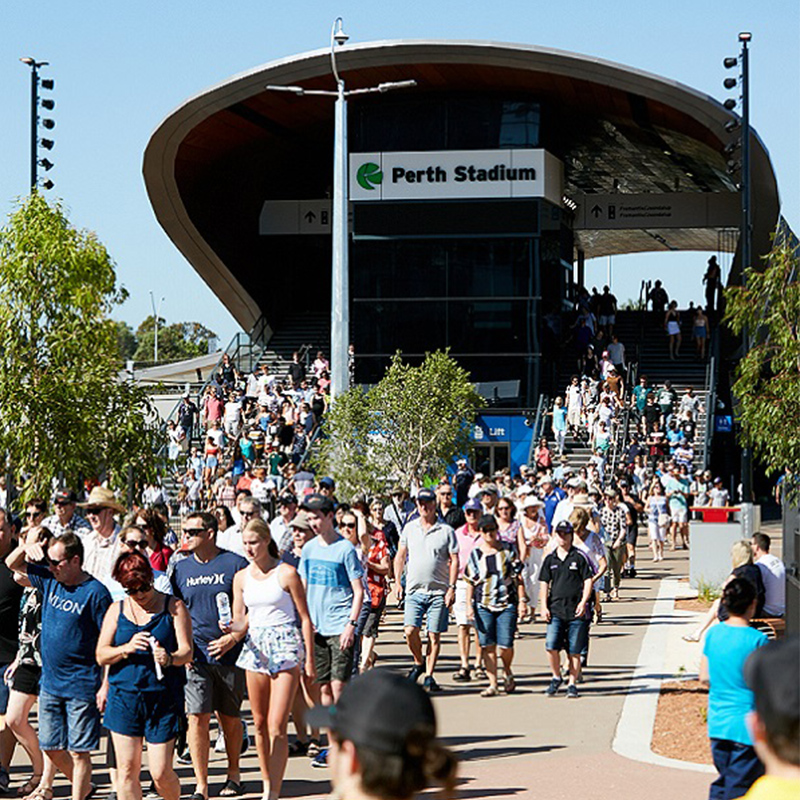 First major sporting event for Optus Stadium
Fans encouraged to plan their journey and arrive early
A highly visible police presence throughout the day
Optus Stadium will reach another significant milestone on Sunday when the first major international sporting event is held at this world-class venue.
Around 55,000 fans will attend the Stadium to enjoy the Gillette One-Day International between Australia and England in what is expected to be the highest attended sporting event in Western Australian history.
With all five gates around the Stadium opening at 9.30am, ticket holders are strongly urged to arrive early to allow time for bag checks ahead of the coin toss at 10.50am and play commencing at 11.20am.
Optus Stadium CEO Mike McKenna, reminded fans that public transport is included in every ticket.
"This Sunday will be the first maximum capacity event held at Optus Stadium and our number one priority is to ensure the safety and security of every attendee. There will be a highly visible police presence in and around the Stadium throughout the day.
"Every ticket includes public transport three hours before and after the game. Fans should plan their journey using the Transperth JourneyPlanner, arrive early to allow for security checks and to locate their seat so they are ready for the historic first ball.
"To reduce queue times, fans should minimise the number of bags they bring and make sure they are small enough to fit underneath seats.
"This weekend is the biggest test yet for this magnificent venue. All 51 food and beverage outlets and five gates will be open and over 1,600 staff will be in place to ensure a fantastic experience for every fan attending this event."
Fans are also reminded to only bring sealed or empty plastic liquid containers. Ticket conditions for cricket events prohibit glass, cans and thermoses being brought into the Stadium. Water fountains are located throughout the inside of the Stadium and the surrounding Park.
More than 80% of fans who attended last weekend's Open Day used public transport and this is set to increase for the cricket on Sunday.
Optus Stadium officially opened on Sunday 21 January 2018 and will host the Big Bash League Semi-Final on Thursday 1 February, an AFL Women's match on 10 February, Ed Sheeran concerts on 2 and 3 March, the Perth NRL Double Header on 10 March, the AFL Premiership Season from 25 March, Nitro Circus on 22 April, Chelsea Football Club in July/August and Taylor Swift on 19 October 2018.