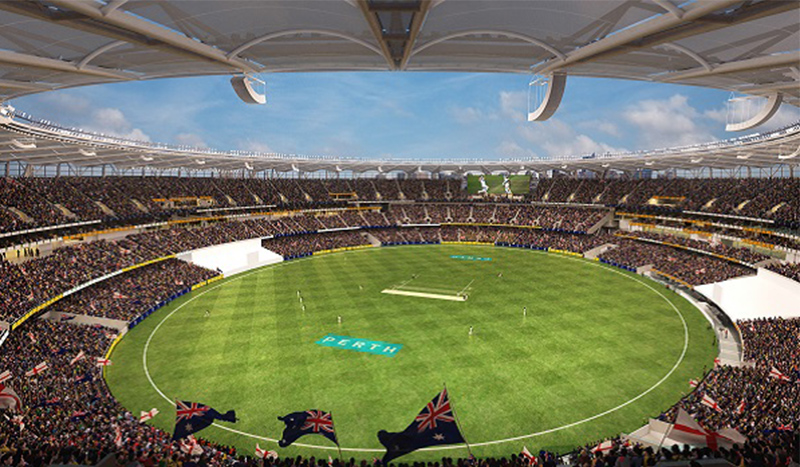 ICC accreditation to host international Test, Limited Overs and Twenty20 matches granted to Optus Stadium
Cricket great Richie Richardson says the venue is the most impressive he has visited
Remaining tickets to the Gillette One-Day International will be released at 10am Friday, January 12, 2018 (AWST)
The International Cricket Council (ICC), the global governing body for cricket, has granted approval for Optus Stadium to stage international Test, Limited Overs and Twenty20 matches.
The ICC gave a glowing endorsement of the stadium, with West Indian cricket great Richie Richardson calling it 'by far the most impressive and well laid out stadium that I have ever visited'.
Mr Richardson, a member of the Elite Panel of ICC Match Referees, and the head of the ICC anti-corruption and securities unit, John Rhodes, inspected the stadium in December 2017 and recently submitted their final report to Cricket Australia.
In the report Mr Richardson said: "The comprehensive amenities, along with the quality and functionality of the facility, surpasses the required standard to host any international cricket match."
"The layout of the stadium provides convenient easement within and around the facility and it is conveniently located within close proximity of the city centre.
"The new Perth Stadium is a wonderful, refreshing world-class stadium, and I have no hesitation in recommending that the venue is approved for staging all three formats of international cricket."
A range of state-of-the-art cricket features are featured at the stadium including five drop-in cricket wickets, four indoor warm up wickets, 16 outdoor turf practice wickets and two dedicated player viewing rooms with direct access to both the change rooms and the playing surface.
In 2016, a prototype drop-in cricket wicket was constructed with the same soil profile as the WACA wicket and tested under match conditions. Following a successful testing phase an additional four wickets were developed, which aim to replicate the character of the WACA wicket.
The Gillette One-Day International between Australia and England on Sunday, January 28, 2018 will be the first sporting event to be held at Perth's newest venue.
The final release of tickets to the match will go on sale at 10am Friday, January 12 (AWST). Pricing and event information can be found at http://www.cricket.com.au/tickets
Comments attributed to Acting Sport and Recreation Minister Peter Tinley:
"Richie Richardson is a cricketing legend who has toured stadiums around the world so this is high praise indeed.
"Perth will now be able to lay claim to having the best cricket stadium in the world, boosting the city's ability to attract big-ticket events and more tourists.
"We are about to embark on a new era for cricket in Western Australia – and this endorsement will travel far and wide throughout the international cricket community, putting Perth on show to the world."