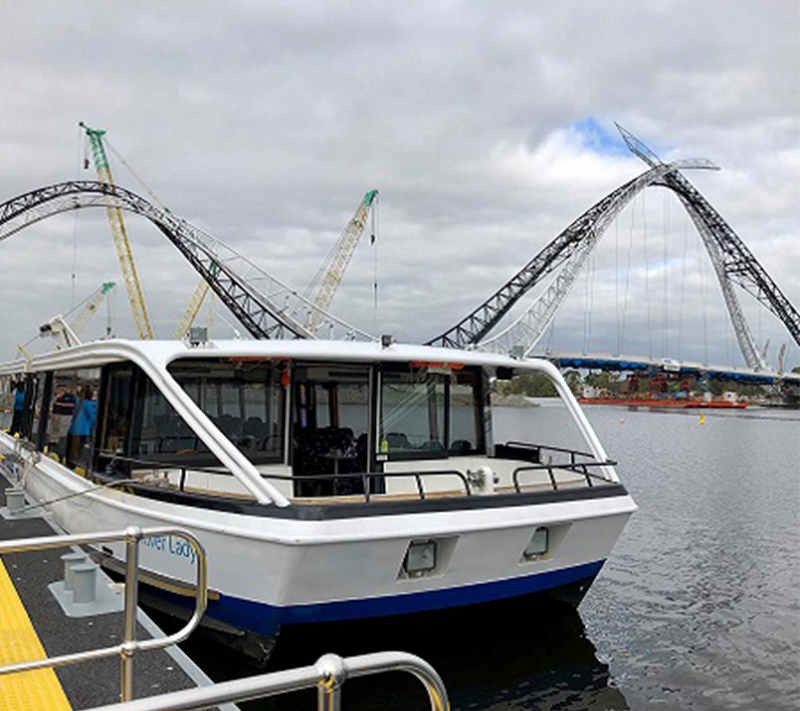 New $5 million Burswood Jetty opens
Purpose-built facility provides an alternative transport option to access Optus Stadium and the surrounding precinct
New tourism offering to leverage Perth's Optus Stadium and iconic Swan River
Captain Cook Cruises, owned by Sealink, secures the exclusive use licence for one of the three berths
Football fans attending the West Coast Eagles' next home game at Optus Stadium now have the option of taking a ferry, with the opening of the new $5 million Burswood Jetty.
Private ferry services to the stadium will be in place for the first weeknight fixture on Thursday June 21, 2018 after Captain Cook Cruises – owned by Sealink – secured exclusive access to a dedicated berth at the new facility for major events at Optus Stadium and priority access for the remainder of the time.
The Department of Transport awarded Captain Cook Cruises exclusive and priority use of one berth following a recent expression of interest process. On an event day, Captain Cook Cruises is expected to pick up and drop off up to 1,440 people on two return services across five vessels.
In addition, other charter operators and the public can use the additional two berths for drop off and pick up of patrons, further enhancing the capacity of the jetty to deliver people to the Optus Stadium precinct.
Maritime Constructions fabricated the three 32-metre steel pontoons for the jetty at a Henderson workshop in December, and in March they were towed up the river to Burswood.
The pontoons were then positioned to create the 96 metre-long purpose-built jetty to the west of Optus Stadium and slightly north of Matagarup Bridge.
Western Australian-based company Deep Green Landscaping was contracted to complete the landscaping for the passenger congregation area, featuring shelters and furniture manufactured in WA and artwork developed by indigenous artist Wendy Hayden.
Comments attributed to Transport Minister Rita Saffioti:
"The Burswood Jetty provides a new on-water facility for public and commercial use, and offers another transport option for people accessing Optus Stadium and the surrounding precinct.
"The successful completion of the project has also provided an outstanding business opportunity for Captain Cook Cruises to expand their operations to include the new jetty, stadium and surrounding precinct as a destination point.
"Passengers and other facility users will also benefit from the exclusive use licence as it will maximise efficient use of the jetty structure while maintaining public safety during periods of peak demand."
Comments attributed to Tourism Minister Paul Papalia:
"Sealink is already guiding visitors to taste award-winning beverages in the Swan Valley wine region and take quokka selfies on Rottnest Island.
"Now they can also ferry spectators to our world-class 60,000-seat stadium where Tourism WA continues to secure blockbuster events like the Chelsea football match, game two of the 2019 State of Origin and a Bledisloe Cup match next year.
"Targeting world-class events to our city to drive visitation is a key part of the Tourism WA Two-Year Action Plan."