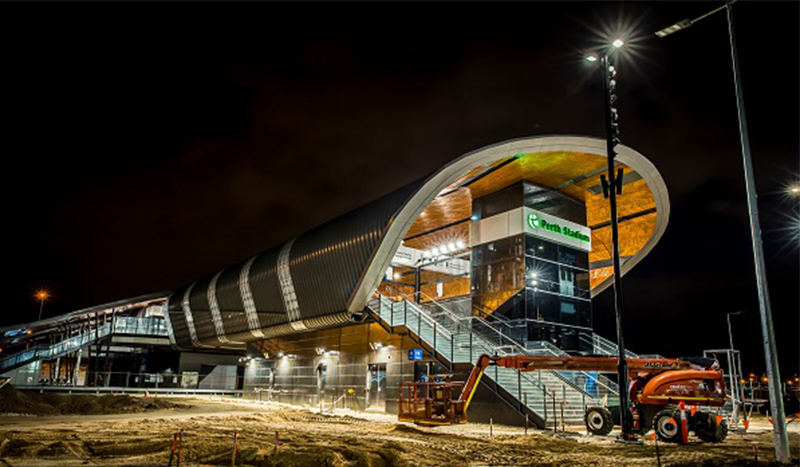 83 per cent of Optus Stadium visitors to use public transport to get to and from events
Testing of bus and train services underway
Local train driver jobs created to cover transport requirements for the new stadium
The METRONET Thornlie-Cockburn Link will provide a future direct connection for the southern suburbs to Optus Stadium
The train station for the new Optus Stadium is now complete and ready to receive thousands of passengers for the stadium's first major event – the free Community Open Day on Sunday January 21, 2018.
Perth Stadium Station is the second biggest train stop on the network after Perth and will be capable of moving big crowds to and from stadium events on high-frequency trains.
Located between Claisebrook and Burswood on the Armadale Line, the new Perth Stadium Station features six platforms, 11 lifts and nearby stowage for 117 railcars.
The station design is intended to complement Optus Stadium and has similar special-event LED lighting that can be lit up in different colours and patterns.
Fremantle, Joondalup and Armadale Line passengers will have direct special event services to the stadium, with Midland Line passengers encouraged to catch the train to East Perth and walk across Windan Bridge, or change services in the city.
Train services from the station will be able to move about 28,000 fans within an hour of an event ending.
Other stadium visitors are expected to use bus services, principal shared paths and the Matagarup Bridge upon its completion in May 2018. Many visitors are also expected to stay in the area to visit entertainment offerings in the precinct.
Lots of work has been going on behind the scenes to ensure public transport arrangements for Optus Stadium are ready for next year.
This includes:
Training of 15 new train drivers to cover extra shifts generated by stadium operations;
The creation of new bus routes to and from the stadium; and
Bus and train testing events to ensure drivers and staff are trained and ready for the Community Open Day.
Transperth recently tested train and bus special-event arrangements in preparation for the opening of the stadium. A video of the train testing can be viewed here, while the bus testing can be viewed here.
The train testing also allowed for other parts of the stadium transport plan to be trialled such as the closure of the Moore Street level crossing in Perth for several hours, which will occur for all major events at Optus Stadium due to high train frequency.
A fact sheet on how to get to Optus Stadium is available on the PTA website.
Comments attributed to Premier Mark McGowan:
"There's no doubt the people of Perth will need to engage in a cultural shift toward public transport when the stadium opens.
"I think when they see this excellent piece of infrastructure and actually use the services on offer, they will see just how easy it is to get there using public transport.
"There will be a campaign closer to the Community Open Day to help people to learn more about how best to get to and from the venue, and I urge everyone to take this information on board."
Comments attributed to Transport Minister Rita Saffioti:
"We have been working very hard to develop and refine a transport plan for Optus Stadium that works.
"This has involved a co-ordinated response from the various transport agencies and departments to ensure the network is running as smoothly as possible for event days.
"As METRONET expands, particularly the Thornlie-Cockburn Link, access to the stadium will become far easier with people along the Mandurah Line gaining a far better connection direct to the stadium station without having to come into the city and change train lines."
Comments attributed to Sport and Recreation Minister Mick Murray:
"Part of the fan experience at Australia's best stadiums is the whole event day package – including the journey to and from the stadium, where a sense of comradery and excitement builds among fans. That is what we want for Optus Stadium.
"The Optus Stadium and Transperth websites will be updated to include detailed venue, event and travel information. The Transperth Journey Planner and Transperth App can help stadium visitors work out the best option to get there and home again."