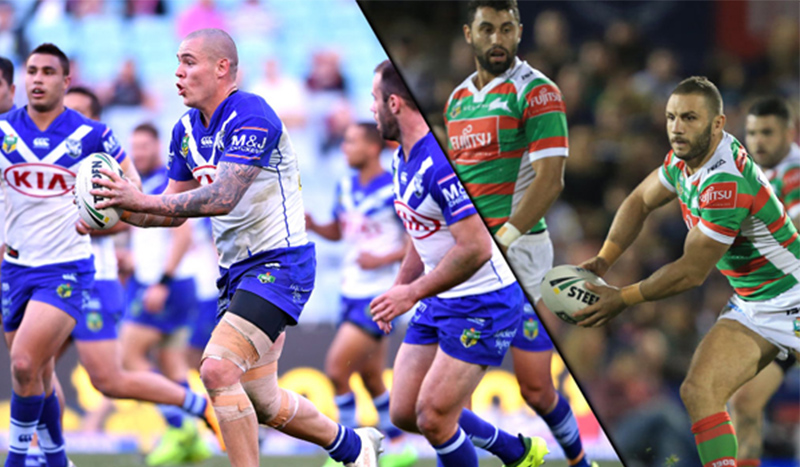 Thousands of people are expected to travel to Perth for two matches of the opening weekend of the 2018 National Rugby League premiership season.
Double-header in round one of the NRL season at Perth Stadium
Rabbitohs and Bulldogs to take on their first round opponents
Proudly supported by the State Government through Tourism WA to help boost visitation
Events expected to deliver a strong economic boost to help create more jobs.
On Saturday March 10, 2018, the South Sydney Rabbitohs and Canterbury-Bankstown Bulldogs will play back-to-back against their yet-to-be-announced round one opponents.
The double-header, to date the first of the confirmed sporting events at Perth Stadium, is the final part of a three-package NRL sponsorship deal. The other two events are a Rugby League World Cup double-header at nib Stadium on November 12 this year and the much anticipated game two of the State of Origin series at Perth Stadium in 2019.
The 2018 NRL round one double-header is conservatively expected to attract between 40,000 and 45,000 people, about 3,000 from interstate, with an overall economic contribution to Western Australia of $2.25 million.
Tickets are available to Bulldogs and Rabbitohs' club members from tomorrow (August 29), with tickets on sale to the general public on Wednesday (August 30).
Construction of Perth Stadium is nearing completion and is on schedule to open in early 2018.
Comments attributed to Tourism Minister Paul Papalia:
"Events like the NRL double-header are important because they bring in visitors and attract national media attention.
"This is just one more way we can drive visitation to fill planes, get visitors to Perth and fill our hotel rooms.
"Tourism contributed $10 billion to WA's economy in 2016 and the industry supports 109,000 jobs. It is a key pillar of the State Government's plan to diversify the economy, create jobs and develop business opportunities."
Comments attributed to Sport and Recreation Minister Mick Murray:
"NRL continues to grow in popularity in Perth and we expect this double-header, in round one of the 2018 NRL premiership season, to be extremely popular.
"The NRL premiership fixture between the South Sydney Rabbitohs and the New Zealand Warriors played at nib Stadium in June 2015 was a sell-out match. The crowd of 20,272 still holds the record for sporting event attendance at the venue since its redevelopment."