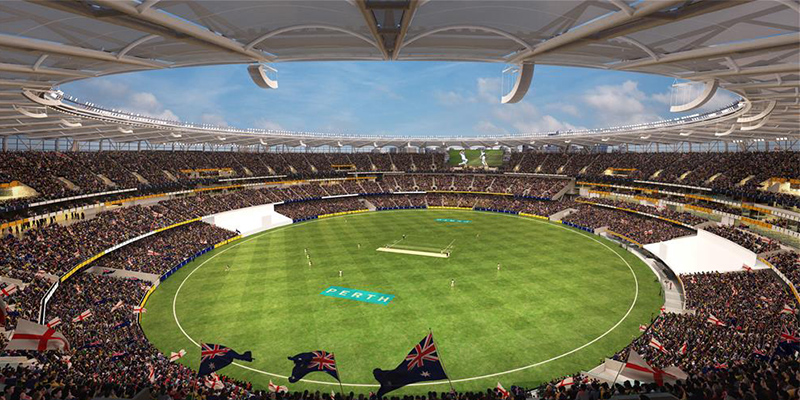 Local cricketers are this week testing a drop-in wicket prototype that will guide the design and construction of the drop-in wickets to be used at Perth Stadium when it opens in 2018.
Testing begins on drop-in wicket prototype for Perth Stadium
Four drop-in wickets will be used at Perth Stadium.
Sport and Recreation Minister Mia Davies today joined Western Australian Cricket Association (WACA) chief executive officer Christina Matthews to kick off a simulated test match that will put the wicket prototype through its paces.
"The State Government has been working closely with the WACA and Cricket Australia to ensure the world-class Perth Stadium meets the necessary requirements for players, while also delivering cricket lovers a fantastic 'fans first' experience," Ms Davies said.
"The unique WACA pitch is revered around the world and the goal for Perth Stadium is to replicate these unique characteristics as closely as possible by using the same soil profile and turf."
Simulating test match conditions, the five-day testing program by the Alcohol. Think Again Western Warriors will see 90 overs played each day and will allow a range of technical data, moisture and visual assessments to be captured, including player feedback. The wicket will be rolled, mowed and covered each night to replicate match conditions. All of this information will be integral in the ongoing development of the wicket prototype.
Ms Matthews acknowledged it was an important milestone for cricket and said the professional nature of the data that would be captured from the test reflected how determined all parties were to get the project right.
The Minister said the Government understood the importance of the WACA Ground's characteristics to WA's history, the public and international cricket fans.
"The facilities for members and fans at Perth Stadium are expected to deliver a spectator experience unlike anything this State has had before and our intention is to match that off-field comfort with the on-field action people expect and enjoy from watching cricket in WA," she said.
Once the stadium opens in 2018, there will be four drop-in wickets available for use. Construction of the stadium is thirty-five per cent complete and the venue is on schedule to be opened in time for the start of the 2018 AFL season.
Fact file
Drop-in wickets are used successfully at major stadia across Australia including the MCG, Spotless Stadium (Sydney), Etihad Stadium (Melbourne) and Adelaide Oval