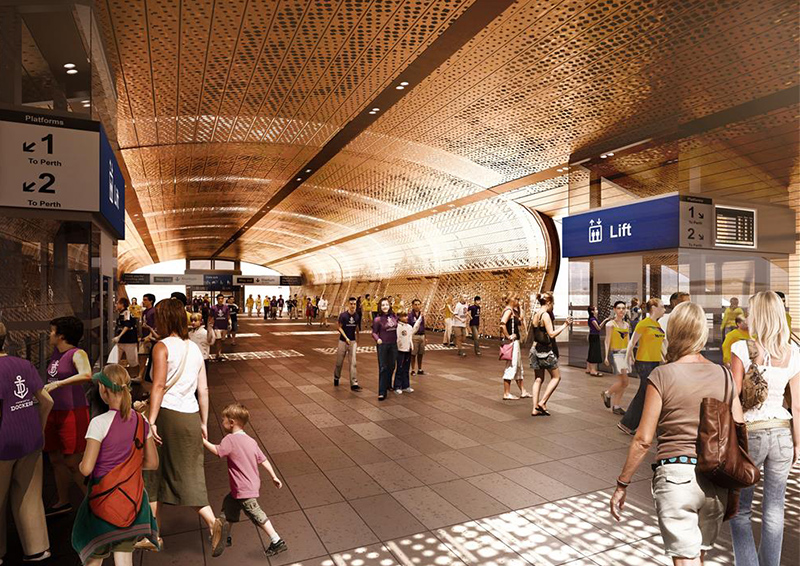 Train passengers who will be attending events at the new Perth Stadium in Burswood have been given a first look at what the future Stadium Station will deliver.
Animation gives insider's view of new Stadium Station
Insight into the scale of what will be the second biggest station on the Transperth network
Part of the $358m integrated transport solution for the new Perth Stadium.
Transport Minister Dean Nalder today released a video of the station, part of a $358m integrated smart transport solution for the new Perth Stadium that encompasses public transport, pedestrian and cycling infrastructure.
Mr Nalder said the animation provided an insight into the sheer scale of the project.
"This Government has developed a strategic, well-designed, and well-managed plan which will see 83 per cent of stadium patrons use public transport," the Minister said.
"The station will allow up to 28,000 people to leave the site by train within an hour of an event ending.
"Stadium Station and its associated rail infrastructure is the major artery that will allow people to enjoy one of the biggest entertainment infrastructure investments ever made in this city."
The animation shows the station's six platforms, building design, entry and exit locations, as well as the surrounding road and rail modifications required to link the old Belmont Park site to the Armadale Line.
Related works on and around Victoria Park Drive, including extending the bridge to enable the new railway lines to be installed, are due to be completed by contractor Lend Lease Engineering in the coming months.
Stadium Station is being constructed by the PRISM Alliance (PTA, Laing O'Rourke and AECOM).
The station is due to be completed in time for the start of the 2018 AFL season.
Fact file
Bus stands in the sports precinct will enable loading of up to 20 buses at a time
600 bike racks will be available across the sports precinct

Between 1,800 and 2,000 jobs created across the new Perth Stadium transport components.