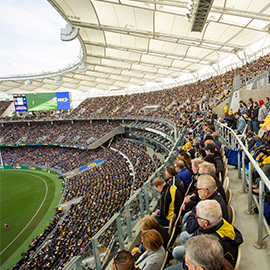 Seating Capacity
Optus Stadium is a multi-purpose venue seating 60,000 people in AFL mode. It also hosts cricket, rugby league and union, football (soccer) and entertainment events.
The Stadium's capacity was determined following extensive consultation, research, analysis and benchmarking of other stadium capacities.
Optus Stadium is the third largest capacity stadium in Australia with 13 different product options based on location and hospitality options.
Key considerations to determine the seating capacity:
Over two years of research including consultation with all sporting codes that will use the Stadium.
Creating a seating bowl that maximises atmosphere, giving every fan an exceptional view.
Keeping fans as close to the on-field action as possible.
Ensuring capacity is not too large to lose atmosphere for regular events.
Forecast population growth for Perth.

Historic and long term forecasts of attendances at regular season fixtures and international events.

Up to 5,000 drop-in seats positioned on all four sides of the pitch for rectangular sports, increasing the capacity to up to 65,000 seats.

Concerts to allow a capacity of 70,000.

Designed to expand to 70,000 seats for AFL events within the existing structure when the demand warrants it.
Attendance statistics for AFL matches:
Average attendance at Domain Stadium for AFL matches in 2014: 35,064
Average attendance for all AFL matches across Australia in 2014: 32,333
Highest attendance for an AFL match at Domain Stadium: 43,627
(West Coast v Collingwood 14 September 2007)
Sources: AFL Annual Report 2014, Austadiums – Domain Stadium crowds.