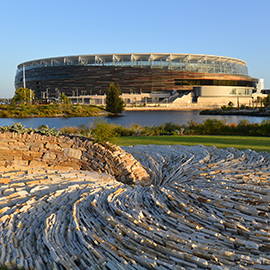 Optus Stadium and Park Art
Optus Stadium and Stadium Park Art
Optus Stadium and Stadium Park Art
Optus Stadium and the surrounding Stadium Park incorporates several permanent artworks. The pieces celebrate Western Australia's indigenous culture, landscape, history and community while responding to the themes of people, land and sport.
The Wandering – Chris Drury
International artist, Chris Drury, is the creator of The Wandering – a 190m long rock formation, which uses 460 tonnes of Toodyay and Donnybrook stone.
Inspired by the flow of the Swan River and its location in Stadium Park (in the northern section of Stadium Park in proximity to the Windan Bridge and the Northern Oval), Drury created this piece to be living art with Indigenous drought-resistent plants incorporated into the design, binding the structure together.
The Wandering was created by Drury and two stone ma-sons in situ over a three week period and it was revealed in May 2016.
Drury was selected from an international field of submissions through art consultant FORM.
Kaya – Professor Kim Scott
The Optus Stadium façade is the canvas for a unique poem, created by Curtin University Professor Kim Scott in close collaboration with members of the Whadjuk Working Party, representing the traditional landowners.
The poem named 'Kaya', meaning 'Hello' or 'Yes', inter-weaves 11 verses of Indigenous Noongar prose with six verses of English text, etched into 68 pre-cast concrete panels that circle the podium level of the Stadium.
The 17 verse poem, which celebrates Western Australian people from the past, present and the future, is spread around the podium level perimeter with the entire composition also featured at the eastern Stadium entrance.
This piece of art was revealed in September 2016 with a video of the installation available on the Perth Stadium You Tube channel.
Message Sticks – Barry McGuire
Well-known Western Australian Aboriginal artist, Barry McGuire created two 4.2m cast bronze message sticks, which are located in the north-west and south-west of Stadium Park – bookending the 200m BHP Boardwalk.
Message sticks have traditionally been used to bring people together in one place and the angle of the message sticks reflects the idea of passing from one hand to another.
Each message stick sits on top of a concrete plinth and has in built technology that will allow them to be showcased during the day and lit up at night.
The Message Sticks were installed and revealed in December 2016.