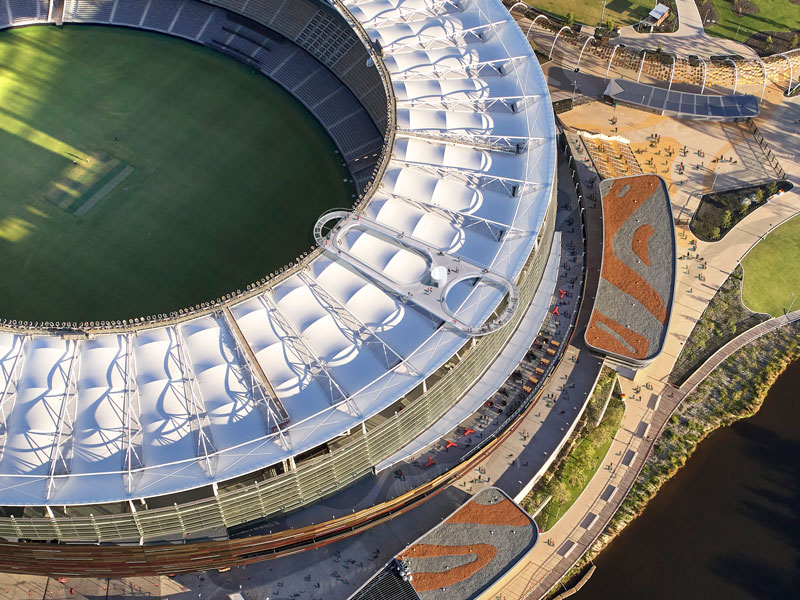 Optus Stadium's HALO rooftop tours are set to expand with the announcement that construction on an exhilarating new platform at the western end of the ground has begun.
Set to open to the public in 2022, the Western Gantry attraction will give visitors incredible views of Stadium Park, the Swan River, Perth's CBD, Optus Stadium's field of play and Perth's surrounds.
The new addition will also make the already successful HALO Tour more accessible with the construction of a elevator giving people of all abilities the chance to view Perth's landscape.
"The Stadium and its surrounding park precinct are fast becoming Perth's premier entertainment destination," Optus Stadium CEO Mike McKenna said.
"This new, complementary offering will be a major tourism drawcard for visitors and will allow people of all ages and abilities to enjoy 360-degree views of Perth and the world's most beautiful stadium."
This is the latest in a series of exciting tour opportunities available at the stadium, with thousands of people having taken the opportunity to tour the stadium, walk the roof or engage in an Aboriginal cultural tour."
For thrill seekers the new Western Gantry attraction includes a breathtaking walk over the field of play, while for those who want to keep their heart rate at a normal level they can kick back and take in the incredible views.
Bookings for Optus Stadium's existing HALO rooftop tours that include the amazing lean out experience and Game Day Rooftop Experience are now available to book from THE OZONE.
Visit the ozone.com.au for more information or to book your tour now.