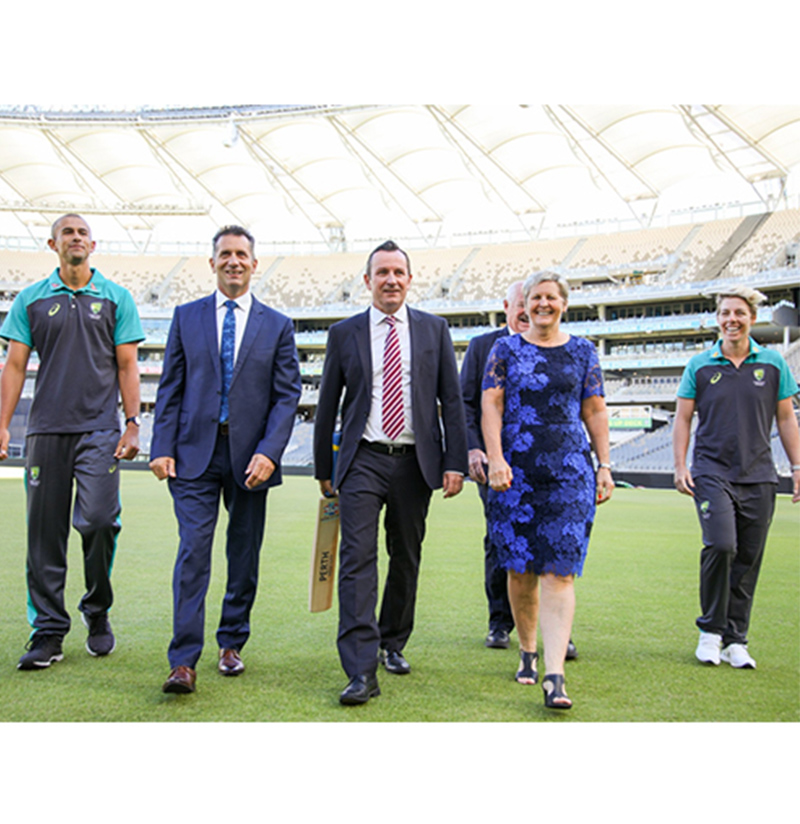 11 International Cricket Council World T20 matches to be played in Perth in 2020
Six matches to be played at Perth Stadium and five at the WACA Ground
Thousands of tourists expected to attend and generate $23 million in visitor spend
This will be the first time the World T20 will be played in Australia
The McGowan Government, through Tourism Western Australia, has successfully bid to host 11 International Cricket Council (ICC) World T20 (WT20) matches in Perth in 2020.
Six men's matches will be played at Perth Stadium and five women's matches will be hosted at the WACA Ground, with fixtures to be announced in early 2019.
Thousands of people are expected to travel to Perth from interstate, and overseas, for the men's tournament alone, generating an estimated $23 million in visitor expenditure.
The matches will be broadcast into key tourism markets including the Eastern States, UK, USA, Singapore, Malaysia, South Africa, New Zealand and the emerging market of India, showing off our new stadium and Perth's recent transformation.
Comments attributed to Premier Mark McGowan:
"Just days ago, we saw how brilliant cricket can be at our new stadium with the sell out One Day International match between Australia and England.
"With the World T20 being held in Australia for the first time, I expect these matches to attract huge crowds.
"This series will put Perth in the spotlight of cricketing nations and I'm sure fans will be keen to come and experience our state-of-the-art stadium."
Comments attributed to Tourism Minister Paul Papalia:
"Perth is perfectly situated as a host of the World T20. Direct flights between London and Perth will be operational, and our time zone means the matches will be at optimum viewing times in markets like the UK, India and South Africa.
"Congratulations to Cricket Australia and Tourism WA for securing this deal which will provide a major economic boost for WA.
"The tourism industry supports 109,000 jobs, or 8.1 per cent of WA's workforce. Every $225,000 in overnight visitor spend creates one job in the tourism industry."Comments attributed to Sport and Recreation Minister Mick Murray:

"This will be the first ever T20 World Cup played in Australia, and it is terrific for WA that we will have far and away the best venue in the tournament. International tourists won't forget that quickly.
"This will be a watershed moment for cricket in this State, with the best cricketers in the world playing the most exciting format of the game at one of the best stadiums in the world."