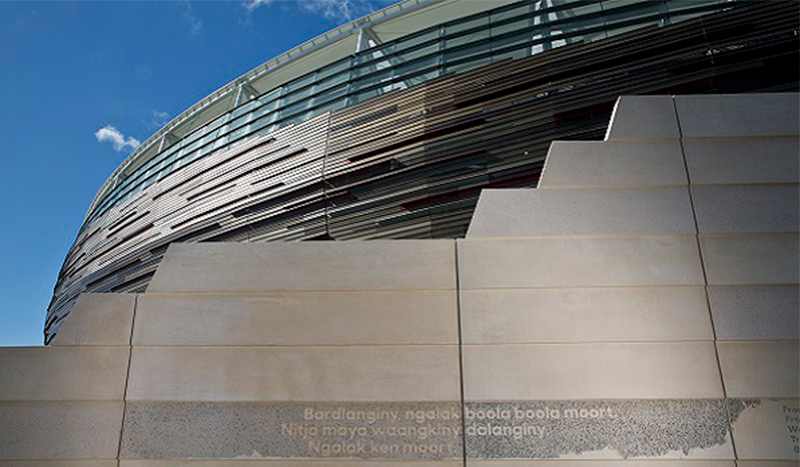 The Whadjuk Working Party has been involved in the Stadium Project since 2012
Whadjuk and Noongar heritage and culture incorporated into the stadium and park design
Whadjuk People Engagement Strategy sets engagement benchmark
Aboriginal Affairs and Finance Minister Ben Wyatt today thanked the Whadjuk Working Party (WWP) for its role in the development of Optus Stadium and the surrounding park.
Representing the Traditional Owners of the land, the WWP has worked collaboratively with the Stadium Project Team since 2012, providing advice on the Aboriginal significance of the site and the inclusion of Whadjuk and Noongar culture into the design.
Aboriginal artwork has been incorporated within Stadium Park, including several pieces by emerging Aboriginal artists, with representatives from the WWP facilitating this process.
The WWP has also worked with Optus Stadium architects to refine the design of the arbour to better reflect the Aboriginal Creation Story, and has also assisted with the landscape architecture ensuring that vegetation used in the park reflects the Aboriginal Six Seasons.
The WWP collaborated with Aboriginal author Kim Scott in the development of the poem 'Kaya', which is etched in concrete on the stadium's podium level, while the recently named Matagarup Bridge represents the cultural and heritage significance of the immediate Swan River area.
Business and employment opportunities have also been fostered by the WWP throughout the pre-construction site works and construction phases of the project which have created pathways into the construction industry for young Aboriginal people.
The Stadium Project Team, Whadjuk Working Party and South West Aboriginal Land and Sea Council also jointly developed the Whadjuk People Engagement Strategy; it will be used throughout the stadium's operational phase and for other State Government projects.
Comments attributed to Aboriginal Affairs and Finance Minister Ben Wyatt:
"I congratulate the Whadjuk Working Party for ensuring that the historical significance of the site is recognised, and our unique Aboriginal heritage has been incorporated into the project.
"The stadium and surrounding stadium park will be a place where all members of our community can come together and enjoy, and it also provides opportunities for Western Australians to learn about Whadjuk and Noongar culture."