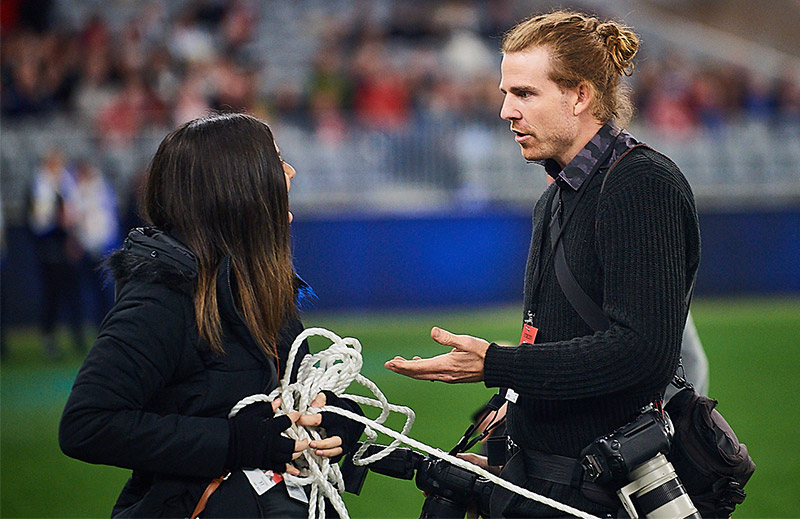 Travis Hayto, our main photo man at Optus Stadium for the last 2 years will be sharing his top 10 pictures taken at Optus Stadium over the next 10 days.
Photo #1/10
"Hey everyone, it's Travis! I'll be sharing 10 of my favourite photos taken at Optus Stadium with you over the next 10 days.

First up! A picture I took at the Stadium's first music gig. Ed Sheeran was the first time in my career I got to experience this many people at one event. I turned to capture the screaming fans at the front and soon realised the scale and view that was in front of me. It was a pretty incredible experience."
Photo #2/10
"I have captured thousands of fans at Optus Stadium. In my opinion, the passion of the Perth Glory fans at the A-League Grand Final tops the lot of them."
Photo #3/10
"I am so grateful for the work that I get to do at Optus Stadium. To see the Wallabies, who I have followed ever since being a young boy, smash the most dominating and feared team of my era was something. To be up close and personal with the action at the Bledisloe Cup was unforgettable."
Photo #4/10
"I sometimes forget the images I take are capturing history in the making.
In 50 years' time, we will look back on images like this and understand where we have come from. This photo was taken when Mark McGowan, Mick Murray, Colin Barnett and a few lucky sporting fans cut the ribbon at Optus Stadium's Open Day."
Photo #5/10
"State of Origin in one word was...WET. Yet I can't remember a more electrifying night of sport. I chose this picture as it was the calm before the storm.⠀⠀⠀⠀⠀⠀⠀
I love it when teams stand and face each other, it is a moment of sizing the opponent up but also mutual respect that you're about to go into battle."
Photo #6/10
"I get to shoot a few corporate events at the Stadium as well, it excites me as the Optus Stadium crew always think outside the box on how to activate the unique space.
These ladies were posing with this white beauty under the arbour before heading into the Melbourne Cup @ Optus Stadium event."
Photo #7/10
"This photo was captured at #PaulKelly's Making Gravy concert in Stadium Park.

PK certainly turned it on that night, I like this picture as it was the first concert outside Optus Stadium and everyone was in great spirits. The Stadium is a great backdrop and capturing photos in the evening here always reminds me how thankful I am to live in Perth. Our sunsets are one of the best!"
Photo #8/10
"My first real hero shot of Optus Stadium, this was taken on Open Day after walking close to 30kms capturing the day's events."
Photo #9/10
"This time-lapse is technically a collection of thousands of images, but this is too good not to share.
This is the Optus Stadium team transitioning the Stadium from a sold out AFL game to the Manchester United Tour, a rare insight not many get to see."
Photo #10/10