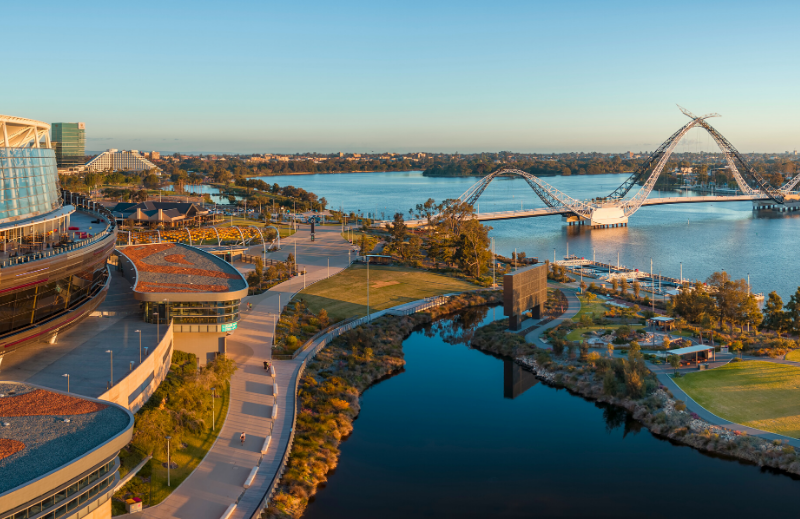 1. Take a tour of the World's Most Beautiful Stadium
Step behind closed doors and explore Optus Stadium on a guided tour, $25 for adults and $15 for kids. You'll see the Eagles and Dockers change rooms and where the players warm up before a big game. Plus, you'll step out onto the side of the field of play - a perfect selfie opportunity!
There is wheelchair and pram access throughout the tour.
Book a Stadium tour now!
2. Let the kids run wild at Stadium Park
Located on the river side of Optus Stadium, Stadium Park stretches over 2.6 hectares of rehabilitated parkland along the Burswood Peninsula in Perth. The park is a perfect picnic location with BBQ facilities available to sizzle your snaggas! The kids will be kept busy for hours with 6 nature playgrounds suitable for all ages.
Stadium Park also has several permanent artworks on display, the art pieces celebrate WA's indigenous culture and history.
3. Visit the City View Cafe
Have you tried nearly every coffee shop or cafe in Perth? Why not make City View Cafe your next stop... Come in for breaky or lunch and enjoy the stunning morning views across the Swan River.
4. Walk the Matagarup Bridge and Burswood Peninsula
Tired of all your normal walking spots? Mix up your walking or cycling path this weekend and take a stroll or ride along the Burswood peninsula next to Optus Stadium. Walkers or cyclists can venture over the Matagarup Bridge and walk through the Stadium's Chevron Parkland for a scenic trail along the river.
5. Finish with a drink at The Camfield
Visit the Camfield, Australia's largest pub for a bite to eat or drink with a tasty menu full of fresh and local WA produce.
The pub has a beer garden complete with a massive screen, plenty of room for the kids to run around in and they are dog friendly until 4pm!