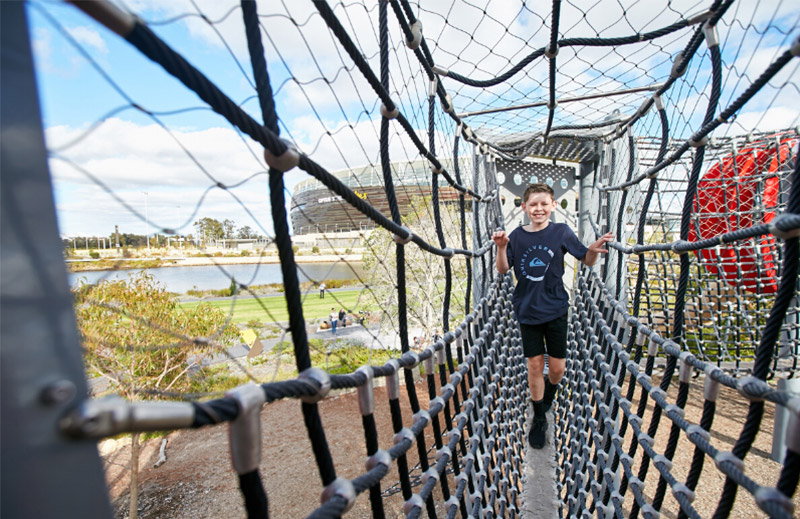 Nature playgrounds are popping up all over WA and Stadium Park at Optus Stadium is home to one of the best. In fact six of the best!
Stadium Park is located along the Burswood Peninsula next to Optus Stadium, with an unbeatable view of the Most Beautiful Stadium in the World, Perth City and the Swan River.
The Park's design reflects Perth's unique culture, utilises the nearby Swan River and acknowledges the site's Aboriginal heritage.
Thanks to Perth is OK, our nature playgrounds have been crowned one of the top outdoor playgrounds in Perth - so what are you waiting for? Grab the kids and come on down!
With 6 nature playgrounds to explore, kids will be entertained for hours with the chance to explore, get muddy, scrape knees and do what kids love doing best – play!
What else can you do at Stadium Park?
1. Grab your family or bestie and go on a walk along the Burswood Peninsula
Stadium Park includes the BHP Boardwalk, spanning 200 metres, winding through the Chevron Parkland and connects the Matagarup Bridge with the Northern Oval at Optus Stadium.
Along the route, you can discover information about the historical nature of the Burswood Peninsula and the role and importance of Aboriginal culture.
The BHP Amphitheatre provides sloped grass seating where children can play or a perfect spot to roll out a picnic blanket and watch the sun go down over Perth.
2. Discover Stadium Park Art
Optus Stadium and the surrounding Stadium Park incorporates several permanent Aboriginal artworks.
You can walk through the Stadium Park and explore all the unique pieces, which celebrate Western Australia's indigenous culture, landscape, history and community while responding to the themes of people, land and sport.
Read more about each individual artwork piece.
3. Visit the City View Cafe
If you're visiting Stadium Park and need a caffeine boost or a quick bite to eat, try the City View Cafe, located on the western side of the Stadium overlooking the Swan River.
Open everyday 7am - 3pm excluding pubic holidays and major events.
4. Takeo an Optus Stadium tour
Whether you're a footy fan, a concert lover or just generally interested in going behind closed doors at Optus Stadium, our guided tours will give you and the family a behind the scenes look into where sports stars and superstars warm up before they head out onto the field or stage.
Book a tour online today!
For information on how to get Optus Stadium on a non-event day
Catch the train to Stadium Park Station on weekend days
Drive and park your car in our free car park areas
Catch the bus to East Perth and walk over the Matagarup Bridge