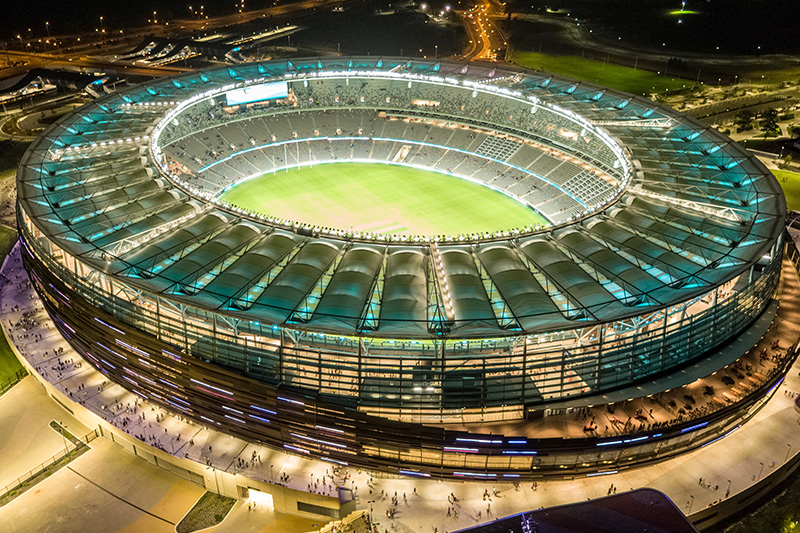 Optus Stadium has again been recognised internationally by being shortlisted for The Stadium Business and Development Summit – Project of the Year award with the winner to be announced at a ceremony on 13 November in London.
The Project of the Year Award recognises a completed new build - or expansion, modernisation or major capital enhancement project of an existing venue – that has delivered on all its goals and more.
Launched in 2010, TheStadiumBusiness Awards are the first industry awards nominated by the stadium sector and recognise leadership, innovation and achievement in the design, development and construction of major sports facilities globally.
VenuesWest Acting CEO Janis Carren said, "being shortlisted for this award is not just an achievement for the State and all those who have contributed to Optus Stadium's success, but also promotes Perth as a destination for international visitors and gives the Stadium an advantage in securing more national and international events."
"Optus Stadium is truly a world-class venue and to be recognised alongside well-known international stadia is a testament to this," said Mrs Carren.
Optus Stadium is in good company, shortlisted alongside well know stadia including Kuala Lumpur Sports City in Malaysia, Fiserv Forum in Milwaukee, Little Caesars Arena in Detroit, Louis Armstrong Arena in New York; Audi Field, Washington DC and SunTrust Park in Atlanta.
This is the third time Optus Stadium has been named as a finalist in TheStadiumBusiness Awards, being shortlisted previously for the coveted Venue of the Year award and Fan Experience Award. As such, the WA Agent General Mike Deeks CSC will be in attendance representing the State.
VenuesWest delivers world class sport and entertainment experiences across its portfolio of thirteen venues and is a proud supporter of Western Australia's high performance athletes.
The success of VenuesWest's commercial activities enables reinvestment back into the venues for the benefit of elite athletes and the community.