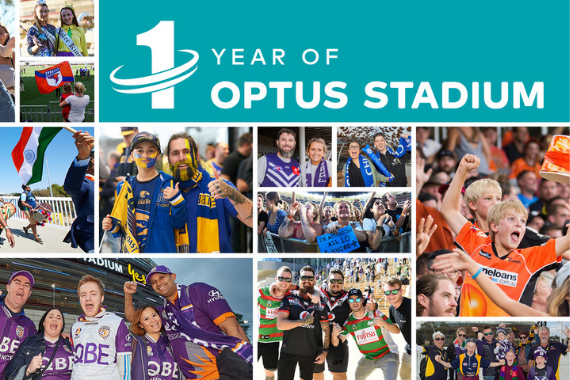 2 MILLION FAN MILESTONE CAPS SUCCESSFUL FIRST YEAR FOR OPTUS STADIUM
Optus Stadium has capped an outstanding first year of operations, attracting over 2 million fans including thousands of regional, interstate and international visitors, winning multiple awards and employing thousands of West Australians.
More than two million fans have attended Optus Stadium in the first 12 months, attending 43 major events, as well as 420 Meetings and Special Events and 1,450 Stadium Tours.
Once the 57,776 guests who have attended Meetings and Special Events and 31,550 who have enjoyed Stadium Tours have been added to the fans who attended major events, an amazing 2,068,109 have attended the iconic State venue in the 12 months up to and including the Scorchers versus Hurricanes clash on 18 January.
Optus Stadium CEO Mike McKenna said while attendances in the first year of operation had exceeded expectations, there were a number of other milestones he was equally proud of.
"The most pleasing was the results from six State Government customer satisfaction surveys which showed overall fan satisfaction was 94% to 98%, across multiple Stadium events, demonstrating fans have really enjoyed their new home of sport and entertainment," he said.
"We saw more than 122,000 regional, interstate and international visitors book tickets and travel to events at Optus Stadium making this venue a genuine tourism attraction.
"The Perth public embraced the public transport system with more than 1.46 million fans travelling to Optus Stadium on buses and trains.
"We have also employed 3,121 casual staff, giving many West Australians an opportunity in the workforce."
The Stadium has collected 32 awards, including the New Tourism Business Gold Winner at the Perth Airport WA Tourism Awards and the Best New Caterer at the Savour Australia Hostplus National Awards for Excellence.
In just over one year of operations, a number of impressive statistics have emerged for the venue, that first opened its doors to the public on January 21 with an Open Day and followed up seven days later with the first event – the Australia versus England One Day International.
43 major events;

122,395 regional, interstate and international visitors attended events;

420 Meeting and Special Events;

1450 Stadium Tours;
On the catering front, Optus Stadium has prided itself on the diverse range of food and beverages available to general admission and premium guests.
The Catering division has placed $21.8m in orders to food and beverage suppliers, including 68 per cent to WA based companies, many of those small businesses.
500,000+ buckets of chips sold;

225,000 Mrs Mac's pastries sold;

Over 1 million litres of Gage Roads beer served;

21,546 rolls of toilet paper used;

80% of transactions cashless;

61,000 app downloads
With 2018 now done and dusted, Mr McKenna said the venue was preparing to host some of the world's greatest sporting teams and fixtures in 2019.
"There will be a 52-day period between June and August this year when Optus Stadium hosts 11 major events including two games featuring Manchester United - the biggest sporting team on the globe - against our own Perth Glory and long-time English rivals Leeds United," he said.
"There are two events featuring two of the great rivalries in sport – the Australian Wallabies versus the world champion All Blacks and the iconic NRL State of Origin clash between bitter rivals NSW and Queensland.
"Throw in the AFL Grand Final replay between West Coast Eagles and Collingwood and a Saturday night Western Derby clash and there is every chance we will see 500,000 fans visit Optus Stadium over that period.
"We are expecting more than 50,000 fans at the sold-out Eminem concert later next month and the possibility of more big concerts being announced in 2019."