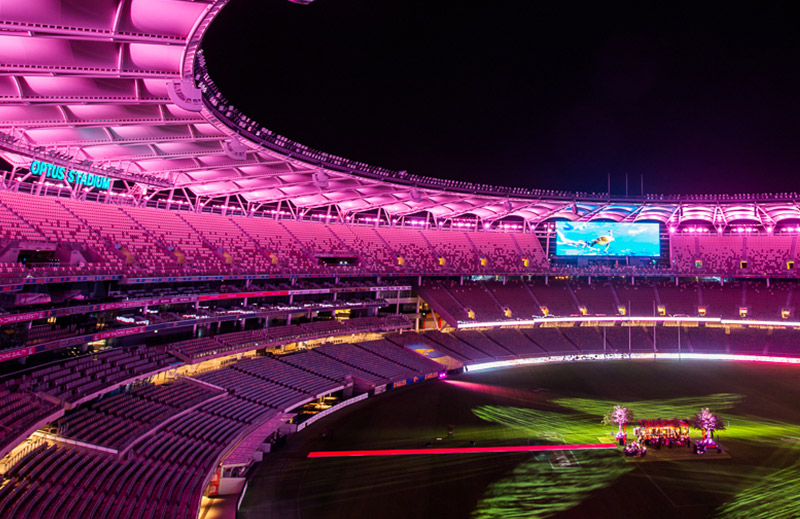 Winner Winner Chicken Dinner!
Spice (the go-to news source for the events industry) declares Optus Stadium the award winners for not 1, not 2 but 3 categories!
Drum roll please, Optus Stadium has won…
Best mega venue in Australia (501 – 5000+)
Best venue for a Gala Dinner
Most Sustainable hotel or venue
We're thrilled to be awarded 'Best Mega Venue in Australia' for the second year running. The events world has truly embraced Optus Stadium with great enthusiasm since opening in early 2018. Our capacity to host all types of events (particularly those of 500+ guests) has provided some refreshing versatility to the existing Perth offering.
However, we are just the blank canvas. Our event holders have created magical events for their guests, from the use of the Stadium seating bowl for larger events, to intimate long table dinners on the field of play. And they love having access to our big screens and state-of-the-art lighting.
Now that we have been open for a few years, it's great to see large interstate associations and conventions bringing their events and conferences to Perth and enjoying the stadium facilities.
Most of these big events travel to Perth once in a blue moon, so the last time some organisations hosted an event here, we were probably either a golf course or a construction site!

Way back when….

It's our honour to offer event holders a unique, flexible alternative to the traditional dull convention centres. Optus Stadium offers everything that a large-scale exhibition or convention centres can offer, but we do with an extra touch of class, a bit of bling and a slither of sass on the banks of the Swan River.
If our beautiful ballroom - the River View Room - could talk, she would be over the moon to have won Best Venue for a Gala Dinner for the very first time!
The architects and designers of Optus Stadium demonstrated unique foresight when they built the ballroom with unrestricted views across the Swan River and the Perth CBD. And this is the best spot to watch the sun set over the Perth CBD.
This has proven to be an outstanding value proposition for our clients since we opened - there simply aren't a lot of ballrooms in Australia with floor-to-ceiling windows spanning the full length of the room.
People get excited when they enter the stadium when it's not full of thousands of fans. There's a sense of calm, but also exhilaration, which juxtaposes the glamour of seeing guests dressed up in their finery in what would usually be a casual venue.
Guests continue to be pleasantly surprised by our offering, whether it's the illuminated views across the playing surface during pre-dinner drinks, the grandeur of the River View Room or the quality of the food and service on offer.
Thank you to Spice Magazine and their readers for recognising Optus Stadium as an outstanding gala dinner venue!
When the state reopens and events return and you're starting to look for somewhere to host your next event, add Optus Stadium to your consideration list.
We'd be more than happy to show you around.