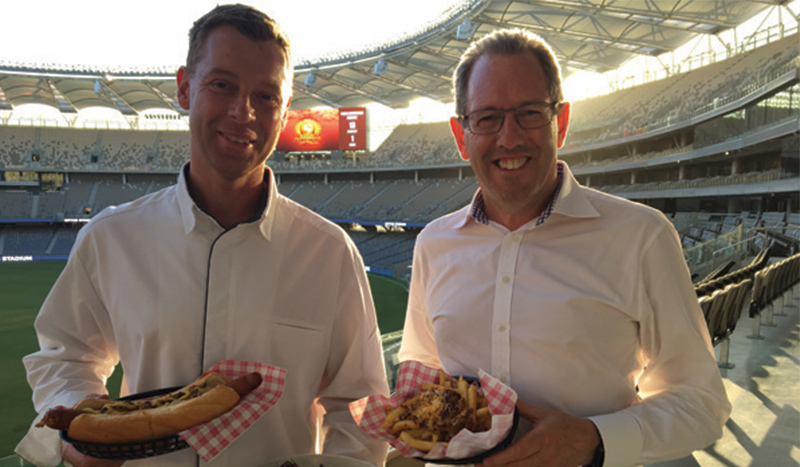 Fans will enjoy a mix of traditional and exciting new stadium food items at Optus Stadium.
Price of hot chips, burgers, hot dogs, soft drink and pies no higher than Domain Stadium or the WACA.
75% of food supplies provided by Western Australian owned and operated businesses.
Healthy and kids menu options available.
Members of the Sports Fans User Group are the first to taste the menu items that all fans will enjoy at Optus Stadium when it opens in January 2018.
The menu offers a mix of traditional stadium food items such as Mrs Mac's pies, burgers, chips, pizzas, hot dogs, fish and chips plus exciting contemporary options including loaded fries, chicken wings, chilli dogs, jerk pork and pulled pork burgers.
Other menu features include healthy options, meal bundles and for the first time at a West Australian Stadium, our youngest fans will enjoy a dedicated kids menu offering a variety of choices in smaller sized serves.
Based on like-for-like products, the prices at the 60,000 seat Optus Stadium are consistent with other Western Australian sporting venues. Several items are cheaper than other major Australian stadiums and while there are a number of free water fountains throughout the stadium, a bottle of Mount Franklin water will be only $4.00.
Optus Stadium CEO Mike McKenna said it was fitting that the Sports Fans User Group were the first to taste the Optus Stadium menu.
"The Sports Fans have been involved with this world-class venue for over five years and I'm delighted they are the first to sample the food that all fans will enjoy from January next year.
"The Stadium has been designed with a fans first focus and this will continue once Stadium operations commence. With 51 outlets open on major event days, fans will be seated no more than 40 metres away from a bar and food outlet.
"Our focus has been to develop a family friendly menu that delivers a variety of fresh and contemporary food. We have developed great tasting versions of fan favourite items along with a range of premium offerings, offering something for everyone.
"Our friendly and customer focussed service staff will also play a huge role in delivering an outstanding experience for every fan week in, week out."
Food throughout the venue has been predominantly sourced from Western Australian companies with over 75% of the food supplies provided by locally owned and operated businesses."
In 2012 the State Government Project Team established nine User Groups. The Sports Fans User Group members have provided ongoing invaluable advice, contributing to the realisation of the fans first aspiration.
Optus Stadium will open with a free community Open Day on 21 January 2018, followed by the Gillette One-Day International between Australia and England on 28 January, AFL Women's match on 10 February, Ed Sheeran concerts on 2 and 3 March, the Perth NRL Double Header on 10 March, the AFL Premiership Season from 25 March, Nitro Circus on 22 April and Taylor Swift on Friday 19 October 2018.