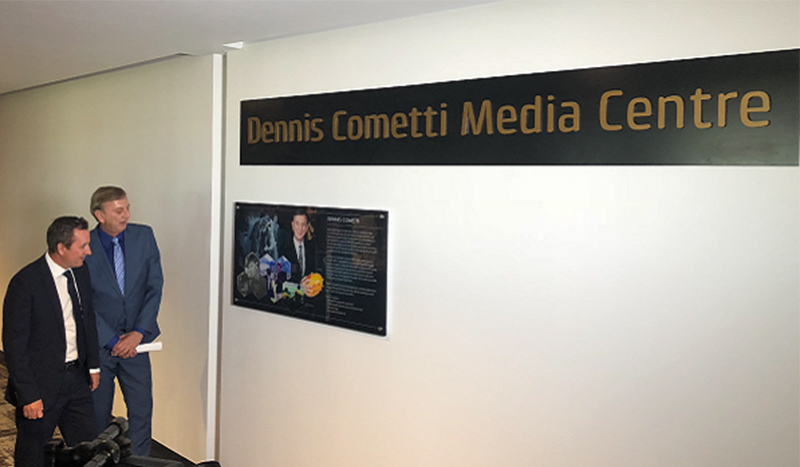 WA icon celebrated with naming of Dennis Cometti Media Centre at Optus Stadium
Premier Mark McGowan delivered the election commitment today alongside WA sporting media icons
State-of-the-art facility to provide the ultimate coverage for Optus Stadium
Premier Mark McGowan today announced Optus Stadium's media facility will be known as the Dennis Cometti Media Centre in honour of the Western Australian commentary legend.
Delivering on an election commitment to honour Dennis Cometti's almost half-century media career, Mr McGowan made the announcement at Optus Stadium alongside some of the State's sporting media icons.
Starting on radio as a Top-40 disc jockey in 1968, Cometti has had a distinguished career both in television and radio, covering AFL, including 16 Grand Finals, several Olympic Games and more than 100 matches of Test cricket on radio.
Cometti continues to call AFL and WAFL football in Western Australia.
The Dennis Cometti Media Centre will be used by a large contingent of local, national and international media personnel across a range of events.
The facility includes:
Two television studios;
A studio box for presenting, producing and broadcasting live television;
Eight radio commentary boxes;
A written press box catering for 30 people;
A photographer's work room; and
A dedicated lounge for media personnel.
The media facility is supported by media interview rooms that can accommodate up to 180 journalists and two 1,000 square metre external broadcast areas, located on the northern side of the stadium.
The design of the Dennis Cometti Media Centre was developed in consultation with the Media User Group, which was established in 2012 and comprised journalists and technical staff from Channel 7, The West Australian, Sunday Times, ABC, 96FM, Fox Sports and Fox Footy.
The user group focused on the needs of modern media, including match-day viewing arrangements for all of the different sporting configurations, requirements for broadcast and written press facilities, the design of media lounges, TV and radio studios, camera locations, and technical, data and wiring requirements.
Comments attributed to Premier Mark McGowan:
"Dennis Cometti is a Western Australian commentary and media icon. I can think of no-one more deserving of this great honour.
"For most Western Australian sports lovers, Dennis Cometti is the voice of football. His career across radio and TV – including calling events at several Olympic Games – has been simply outstanding.
"Western Australian footy fans were sad to see Dennis retire from AFL television commentary, but it is terrific to know his presence will live on in WA's new sporting era at Optus Stadium.
"The Dennis Cometti Media Centre at Optus Stadium is state-of-the-art and gives the stadium another advantage in securing more national and international events.
"I would like to thank the Media User Group for their work and involvement in developing this media centre and the decision to honour Dennis Cometti."
Comments attributed to Dennis Cometti:
"Nobody sets out on any career thinking about having a day like today. But a day like today certainly makes you think about your career.
"There is no doubt WA bats well above its weight when it comes to producing sports broadcasters and journalists. The people acknowledged in this wonderful media centre prove that.
"I never felt the need to live anywhere other than Perth. And in fairness, no-one ever suggested I should. I think I have always been blessed with good management.
"My career is really testimony to my wife Velia and our two children Ricki and Mark. They seemed to cope with all my time away so well, in hindsight, perhaps a little too well."