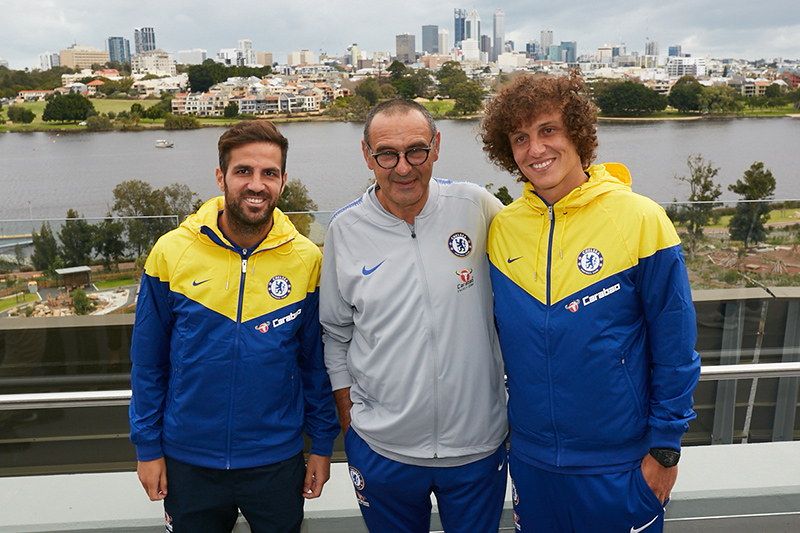 First international soccer club appearance at Optus Stadium
The club's only appearance in Australia
Secured and supported by the McGowan Government through Tourism WA
The McGowan Government has welcomed English Premier League powerhouse Chelsea Football Club to Perth, ahead of its friendly match against Perth Glory on Monday, July 23.
A star-studded squad of 25 Chelsea players has been confirmed including Cesc Fàbregas, David Luiz, Marcos Alonso and Pedro, and new addition Jorginho.
The match will be the first time the recently appointed management team, featuring manager Maurizio Sarri and his assistant Gianfranco Zola, have been in control of the Chelsea squad.
It will also be the first international soccer club appearance at the stadium, and the first time Chelsea has been to Perth since 1974.
The deal to bring Chelsea to Perth, struck by Tourism WA and Optus Stadium operator VenuesLive, will include an open Chelsea training session at the WACA tomorrow from 6 pm to 7 pm. To attend, fans must register through Optus Stadium's Facebook page.
Final tickets to the match are still available and a special Chelsea FC Fan Zone will be set up outside Optus Stadium at 4 pm on match day, ahead of the 7.30pm kick-off.
Comments attributed to Acting Tourism Minister Bill Johnston:
"We are very excited to welcome the Chelsea Football Club to Perth and hope the team gets the opportunity to explore all our vibrant city has to offer.
"This match will give football fans an opportunity to see one of the most successful English Premier League teams of the past 15 years up-close.
"We are also looking forward to welcoming visitors who have travelled from interstate and overseas to watch this match.
"Big events like this provide a great platform to show off Perth as the vibrant Western gateway to Australia."
Minister's office – 6552 560