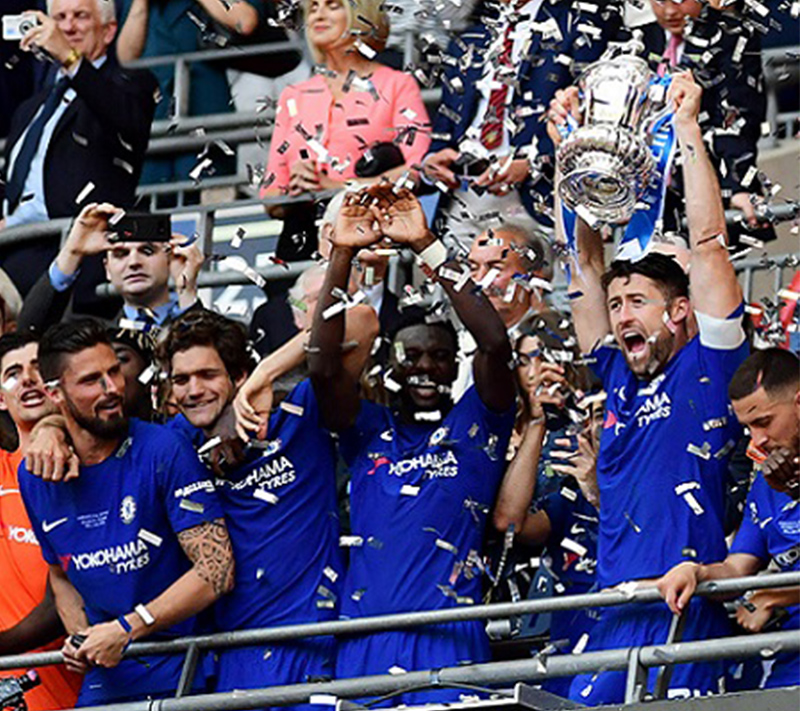 50-DAY COUNTDOWN BEGINS: EMERTON TELLS WHY CHELSEA FC WILL ZERO IN ON OPTUS STADIUM GAME AGAINST PERTH GLORY
Perth trip a key part of pre-season preparation for Chelsea FC says Socceroos legend Brett Emerton
Blues will play Perth Glory at Optus Stadium on Monday 23 July
Chelsea will bring the famous FA Cup to Perth as part of a big football celebration
WITH just 50 days to go until the Chelsea in Perth tour kicks off, Australian football legend Brett Emerton has declared that Chelsea FC will look to the WA visit as a key foundation of their preparation for the 2018/19 Premier League season.
Emerton said today the competition for spots at Stamford Bridge will be so intense next season that players selected for the Perth Tour will look to use every opportunity to establish their position in the first team squad.
Chelsea FC will bring the iconic FA Cup, fresh from their victory at Wembley Stadium last month, to Optus Stadium as part of a massive pre-game celebration ahead of their clash with Perth Glory on Monday 23 July.
Emerton's 18-year career saw him travel all over the world and the former Feyenoord, Blackburn Rovers and Sydney FC man knows everything there is about off-season expectations – even finding himself on both sides of a big time pre-season tour in Australia.
In 2010 Emerton toured Down Under with Blackburn as part of the Sydney Festival of Football and then in 2013 he captained the A-League All Stars side that faced Manchester United.
"There's just 50 days to go and everyone in football is getting excited at the prospect of seeing the current FA Cup Champions at the new Optus Stadium," said Emerton.
"Sometimes people tend to see pre-season friendlies as not being taken very seriously.
"I can tell you as a player and team leading into a competitive season you take every training session, every game very seriously.
"Preparation is key in any sport and I think the Chelsea players will be no different. You're always competing for positions so every time you step out onto the pitch you need to perform in front of the coaches and get yourself in good condition for the season ahead.
"2018 is a World Cup year so, depending on which teams go far in the competition, pre-season tours around the world will be affected. But make no mistake, Chelsea have a world-class squad full of fantastic footballers who will relish the opportunity to pull on the jersey and play in this game, and they will bring a powerful squad to Perth in July."
The value of a good pre-season is not lost on Emerton, and Chelsea are well aware that good preparation breeds success.
Since 2002 the Blues have won an impressive 15 major trophies and cemented their place as one of the world's biggest clubs.
In a deal struck by the State Government of Western Australia – in partnership with Optus Stadium operator VenuesLive – the Chelsea visit will include a range of fan engagement activities.
"You don't get too many bigger clubs than Chelsea coming to Australia," said Emerton.
"It's a fantastic chance for the fans to come and see world class players out there on the pitch.
"Obviously they're a team full of quality footballers who play with a lot of confidence. They're very well drilled and every time they turn up on the pitch they get the job done."
The Chelsea game will be the first time new Perth Glory coach Tony Popovic will work with his squad ahead of the new A-League season.
The mighty Chelsea will strike an imposing figure for the Perth Glory players but stepping out onto the brand new Optus Stadium in front of a full house is sure to get the juices flowing for the locals.
"It's going to be very tough for Perth," said Emerton.
"They're up against world class players but it's a fantastic opportunity for the guys who play to draw a comparison between themselves and the top level of the game.
"This sort of thing is why you play the game, opportunities like this to play at big stadiums in front of big crowds.
"It's only going to make it extra special for the players and for the fans who come along. A brand new stadium with more than 60,000 people turning up to see Chelsea and Perth Glory play – it'll be a great spectacle and a fantastic night."
With passionate fans from both clubs to be decorating the new stadium when it hosts its first ever football game it's sure to be a special occasion.