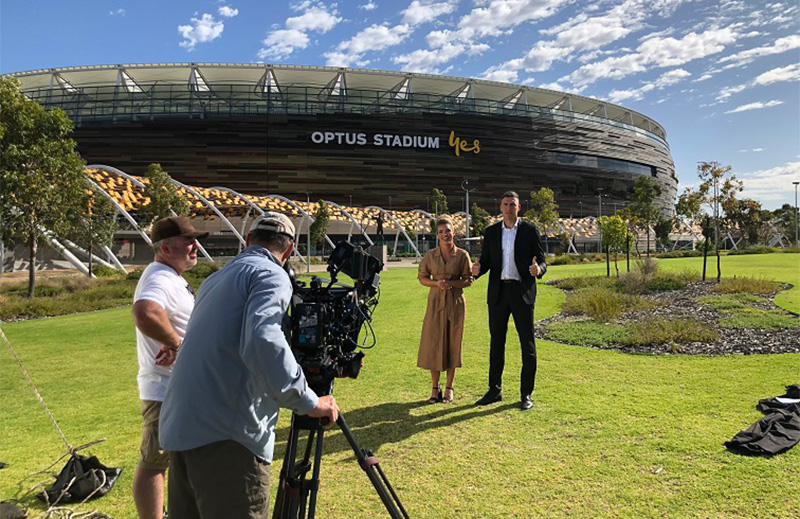 Tourism WA's 2020 AFL marketing campaign launched on the east coast
Campaign targets Victorian, South Australian and New South Wales markets
Sporting personalities Abbey Holmes and Matthew Richardson featured
Campaign will add to State Government's recent work to boost domestic tourism
Interstate football fans are being encouraged to head west to cheer on their team in Perth and stay on to holiday as part of Tourism Western Australia's marketing campaign for the 2020 AFL season.
Looking to travel to Perth to see your team play?

Optus Stadium, powered by TASA, offers you an easy way to access match day tickets coupled with local game day experiences.
Launched in Victoria, South Australia and New South Wales today in the lead-up to the first AFL game in March, the five-month campaign features AFLW player, commentator and media personality Abbey Holmes and former Richmond Tigers legend, media personality and AFL commentator Matthew Richardson.

The pair feature in a series of videos targeting passionate fans of specific clubs. South Australian-born Holmes appeals to Adelaide, Port Adelaide, Sydney Swans supporters to travel to WA, experience a game and 'play on' in Perth, while Melbourne-based Richardson urges Victorian fans to be part of the action.

The campaign will showcase WA experiences and attractions such as revitalised Perth, Rottnest Island and wineries in the Swan Valley. It will start with social and digital activity, followed by television commercials on the Seven Network during interstate AFL matches to promote Perth as an AFL tourism destination.

The campaign videos feature the 'Holiday Here This Year' logo, and will complement the McGowan Government's recent proactive $12.85 million package to boost domestic tourism and support the local industry following the coronavirus outbreak and east coast bushfires.

This will be complemented by tailored campaigns with individual football clubs in Victoria, South Australia and New South Wales to entice members and networks to travel with their AFL team to Perth for the ultimate AFL getaway.

Figures from independent research show a total of 23,832 interstate visitors came to WA for an AFL game last season and spent close to $26 million. Travellers visiting Perth from regional WA bolstered the benefits for the Perth tourism industry even further - combining with east coast visitors to deliver more than $59 million during the 2019 season.
Comments attributed to Tourism Minister Paul Papalia:
"This year's campaign will help get the word out to east coast sports lovers that getting behind their team as they battle it out in the west is a must-do experience this AFL season.
"While events give visitors a time-specific reason to travel to our State - even more importantly they provide an opportunity to take in some of our amazing attractions such as our city, Rottnest Island and the Swan Valley.
"The footy is just the beginning. After the final siren, east coast visitors will be pleasantly surprised with the stunning array of attractions and adventures all around the State.
"For those who have never been west, or haven't been for some time, following your team over is the perfect excuse to have a look and see just how incredible Western Australia really is.
"The campaign will provide yet another boost to the State Government's important recent work to attract even more domestic tourists to Western Australia."