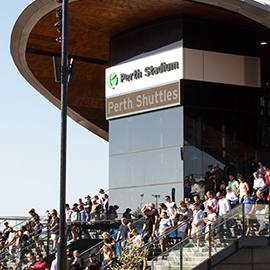 Transport Solution by Rail
Transport solution by rail
Transport Solution by Rail
Trains are the best way to efficiently move large groups of people. The Perth Stadium Station and an upgraded East Perth Station will move the majority of a 60,000 capacity crowd.
An integrated public transport plan is being implemented to move up to 83% of patrons to and from the Stadium.
Events at Optus Stadium will be joint ticketed, which means the cost of public transport is included in event tickets.
To connect event-goers to the CBD and wider metropolitan area, the following transport options will be available:
Perth Stadium Station operates with additional train services on all lines.
A Special Event Suburban Bus Network operates for large-scale events and a CBD shuttle operates between the venue and Elizabeth Quay Bus Station.