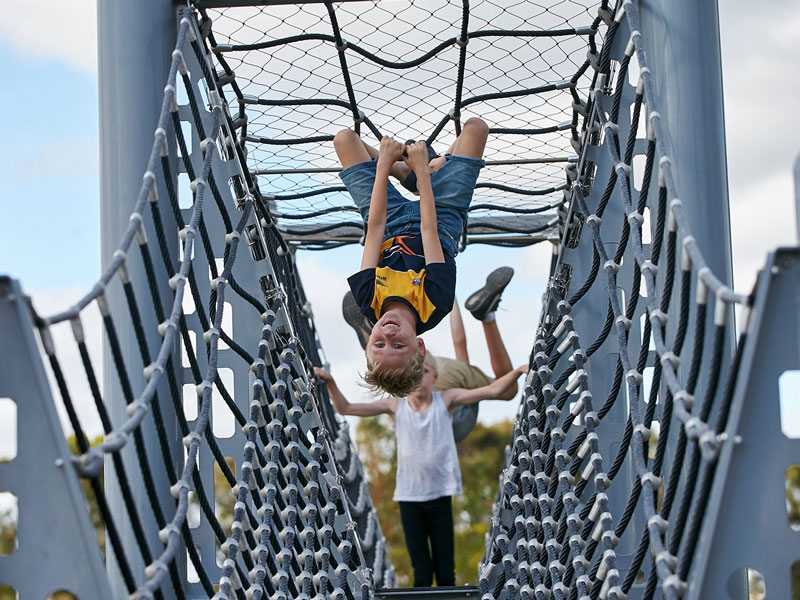 Anyone can play at Optus Stadium – the playgrounds and parklands that'll keep the kids entertained for hours
We love watching our favourite teams play on the big stage, but there's just as much fun to be had for all the family at Stadium Park.
Here's our top picks for kids to climb, swing, jump and slide.
Let the kids run wild in Chevron Parklands
With six playgrounds, inspired by the Noongar six seasons, kids are free to explore and discover a world of nature and fun. Check-out our favourite picks for kids big and small.
Weitj Nest (Djeran Season) is suitable for the littlies and is secured by a fully fenced area. Featuring a small slide, balancing logs, music play and a rope nest swing, there's plenty of sensory experiences on offer. And keep your eyes peeled for the emu tracks and discover their hatching eggs!
Qwandong Towers (Kambarang Season) is a hit with the bigger kids. A great play area with sky-high forts and lookouts, you can scale the ropes and make your way back down to the bottom through the long-enclosed slides.
Numbat Burrows (Birak Season) Love a game of hide-and-seek? At Numbat Burrows kids can crawl and explore the many tunnels set amongst nature, perfect for the little ones.
Plenty of fun at the Sensory playground
Located behind The Camfield, the Sensory Playground is fun for all ages. The little kids will delight in musical play, in-ground trampolines and sandpit diggers – and they are safe to explore with a soft-fall hill in the middle of the grounds.
For the bigger kids, there's plenty to keep them entertained with a dual cable flying fox, ropes climbing frame and basketball court – so don't forget to bring your ball!
Find out more about Stadium Park or download our handy map.
If you can't be bothered packing your own picnic, City View Café is open for breakfast, lunch and afternoon tea from 7am to 3pm every day including weekends.
Looking to continue your adventure? Check out The Ozone – the must-visit destination to book your unique experiences including the HALO Optus Stadium rooftop tour and Stadium Tour.