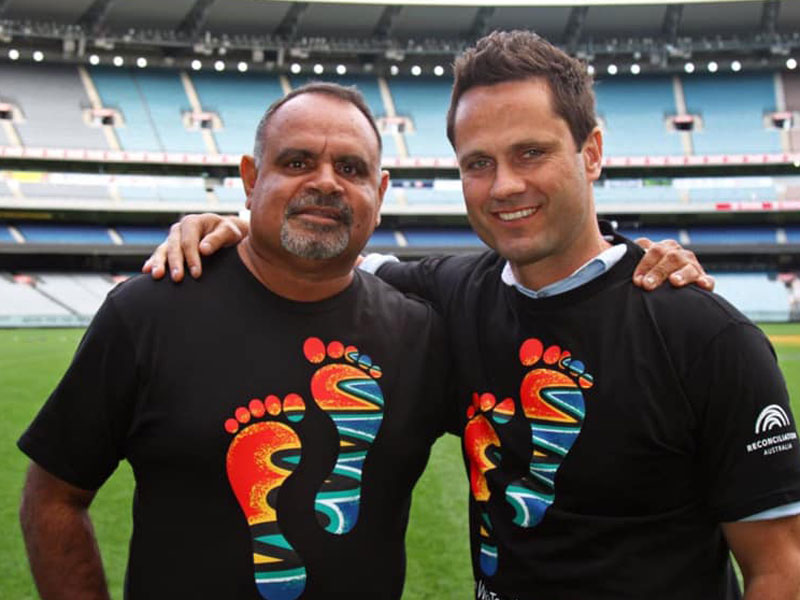 This article was first published on Essendonfc.com.au on Tuesday, 1 June.
The Long Walk will proceed in Perth this year, occuring before Saturday night's Dreamtime blockbuster at Optus Stadium.
Indigenous stars and Bomber legends Michael Long and Gavin Wanganeen will lead the walk from Victoria Gardens in East Perth, with formalities commencing from 2:30pm (AWST) before the walk begins at 3:30pm (AWST).
The Long Walk will then proceed along the Swan River foreshore, before turning left over the Matagarup Bridge and finishing at Optus Stadium next to the iconic Nicky Winmar statue.
The Long Walk, now in its 17th year, is a charity inspired by Michael Long's walk to Canberra in 2004 to get the lives of Aboriginal and Torres Strait Islander people back on the national agenda.
General manager of The Long Walk and Indigenous affairs Leanne Brooke said The Long Walk in Perth would be an historic event.
"We are really excited and so very proud to be taking The Long Walk to Western Australia in 2021," Brooke said.
"In 2004, Michael Long undertook his historic Long Walk to Canberra with the aim of elevating the voices of Aboriginal and Torres Strait Islander peoples. Today, we continue to do this and work towards improved health and education outcomes through our iconic 'Walks', advocacy and education programs.
"I encourage and invite everyone who is able to do so to join us at this historic event on Saturday in a show of support and unity for Australia's First Nations peoples, the oldest living cultures on earth."

Essendon CEO Xavier Campbell is thrilled the Western Australian public can experience the power of The Long Walk.
"The Long Walk has for more than 15 years created focus and attention on driving improved Indigenous health outcomes," Campbell said.
"Driven by the selfless and determined efforts of past Essendon player Michael Long, The Long Walk transcends football and I encourage those who can to head to Victoria Gardens in Perth on Saturday for this very moving event.
"It's a great privilege to bring The Long Walk to Western Australia before our blockbuster clash against Richmond at Optus Stadium.
"We also thank local council and government, as well as the team at Optus Stadium, for their support of The Long Walk in Perth this year. We look forward to seeing as many people there as possible on Saturday to show their support and unity."
The Long Walk in Perth timings (all times in WST)
2:30pm – Gather at Victoria Gardens (East Perth)
3:30pm – Departure for The Long Walk
4:00pm (approximate) – Arrival at Optus Stadium
To register your attendance to The Long Walk in Perth ahead of Saturday, please visit www.thelongwalk.com.au
The Long Walk – Our story
Michael Long is one of the most recognisable Aboriginal figures in AFL football. He played for the Essendon Football Club between 1989 and 2001, was a member of two premiership sides and the winner of the 1993 Norm Smith Medal.
Long championed the Aboriginal and Torres Strait Islander cause within the AFL. In 1995, he made a stand against racial abuse, following an on-field incident with another player, asserting that racism had no place in sport.
Ultimately this led to Long being one of the pioneering forces behind the racial abuse code that was adopted by the AFL in the 1990s. He retired from football in 2001.
In November 2004, Long embarked on an historic trek, walking from his home in the suburbs of Melbourne all the way to Parliament House in Canberra – more than 650 kilometres away.
After returning home from yet another Aboriginal funeral, Long decided that something needed to be done about the plight of his people. He took it upon himself to get Aboriginal and Torres Strait Islander issues back on the national agenda and resolved to meet with then-Prime Minister John Howard to discuss his concerns, even if he had to walk all the way to Canberra to do it.
Long was joined on the road by Aboriginal and non-Aboriginal supporters from all over Australia. Some walked in support for an hour, some for a day and some took the journey all the way to Canberra. As the walkers passed through the Victorian countryside, local people came out to meet them, offering encouragement, support and assistance.
Seeing both Aboriginal and non-Aboriginal people rallying together, Michael's Long Walk became a mission of hope. The troupe started walking out of frustration and pain but as they walked they began to understand that Australians from all walks of life had been looking for a way to express their support for Aboriginal culture for a long time.
For more information, please visit www.thelongwalk.com.au