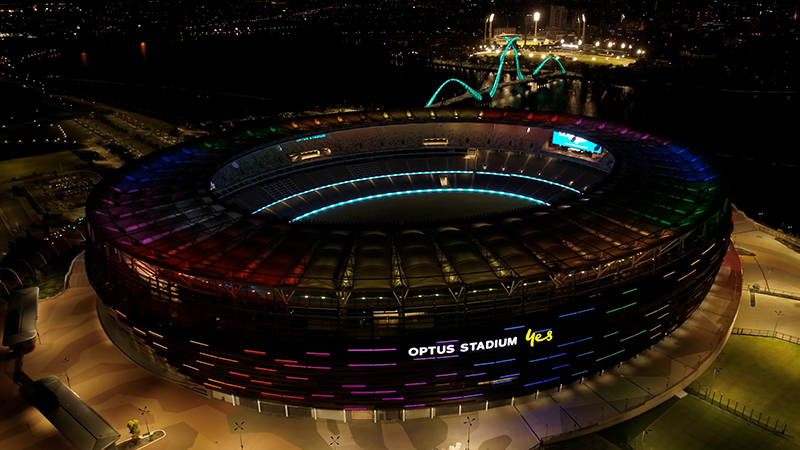 Every year, Optus Stadium accepts requests to use the rooftop lighting system for charitable and not-for-profit organisaitons who are promoting an event or appeal.

With over 897 led lights used, it is always a spectacular show!

Lighting requests for 2022 have now closed. Click here to view a full overview of the lighting policy.

Check out a list below of the upcoming featuring lighting dates:

*Dates are subject to change and more events or nights may be added.
| | | |
| --- | --- | --- |
| Date | Colour | Description |
| Friday, 14 January 2022 | Pink | Fringe World Festival |
| Tuesday, 15 March 2022 | Orange | Harmony Week |
| Monday, 21 March 2022 | Blue & Red | National Palliative Care Week |
| Saturday, 26 March 2022 | Purple | Purple Day for Epilepsy |
| Saturday, 2 April 2022 | Blue | World Autism Awareness Day |
| Saturday, 16 April 2022 | Red | World Voice Day |
| Sunday, 17 April 2022 | Red | World Hemophilia Day |
| Thursday, 28 April 2022 | Yellow | R U OK Day |
| Sunday, 15 May 2022 | Yellow | National Road Safety Week |
| Monday, 16 May 2022 | Red | National Volunteer Week |
| Tuesday, 17 May 2022 | Red & Blue | Flying Doctor Day |
| Wednesday, 18 May 2022 | Blue & Green | World NF Awareness |
| Friday, 27 May 2022 | Red | 65 Roses Day for Cystic Fibrosis |
| Wednesday, 1 June 2022 | Red | World Hemochromatosis Week |
| Tuesday, 21 June 2022 | Blue | MND Global Day |
| Wednesday, 27 July 2022 | Maroon & Cream | World Head and Neck Cancer Day |
| Monday, 1 August 2022 | Pink | DonateLife Week - Organ Donation |
| Friday, 12 August 2022 | Red | Red Nose Day |
| Friday, 26 August 2022 | Purple | Wear it Purple Day |
| Thursday, 1 September 2022 | Blue | Prostate Cancer Awareness Month |
| Saturday, 10 September 2022 | Pink | International Gynaecology Awareness Day |
| Friday, 23 September 2022 | Purple | ITP Awareness Week |
| Thursday, 29 September 2022 | Red | World Heart Day |
| Wednesday, 5 October 2022 | Orange | ADHD Awareness Month |
| Saturday, 15 October 2022 | Pink & Blue | Pregnancy and Infant Loss Remembrance Day |
| Friday, 21 October 2022 | Purple | Developmental Language Disorder |
| Thursday, 27 October 2022 | Blue | Lights for Lifeline |
| Friday, 4 November 2022 | Golden Yellow | Diwali Festival |
| Monday, 14 November 2022 | Red | Beat Child Cancer Giving Day |
| Friday, 25 November 2022 | Orange | '16 Days To Stop Violence Against Women Campaign |
| Thursday, 1 December 2022 | Red | World AIDS Day |