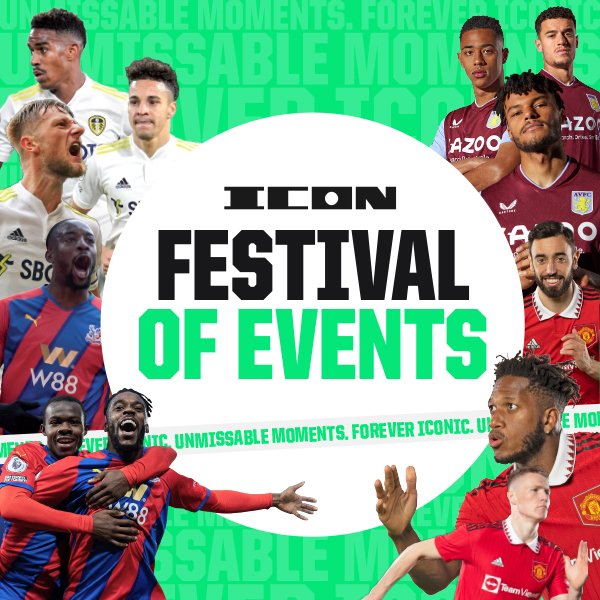 ICON Festival of Events
Join your fellow fans and enjoy the atmosphere of ICON at one of 13 festival activities.
It doesn't matter if you follow Leeds United, Manchester United, Aston Villa, Crystal Palace or are just a lover of the world game, there is something for everyone.
Wednesday 20 July
Leeds fans can watch their club up close when the travelling squad takes to Fremantle Oval for an Open Training Session from 3:30pm. With free entry, this is an event you don't want to miss.
Thursday 21 July
Manchester United start their tour week with a SOLD OUT Open Training Session at the WACA Ground from 10:00am before fans can head to their Official Fan Venue PICA Bar in Northbridge from 12:00pm.
Crystal Palace fans have their first chance to see some of the players from the first team squad up close at the Official Fan Party from 4:00pm at The Leederville Hotel.
While Leeds diehards can get up close to the players from the travelling first team squad at the Official Fan Party from 4:00pm at Gage Roads Freo.
Friday 22 July
Friday is a big day on the ICON calendar with events running for all four clubs!
Leeds United legends Tony Dorigo and Michael Bridges will be getting fans ready for the clash with Crystal Palace at the Officials Leeds Pre-Match Party from 12:00pm at Gage Roads Freo. With the first 150 fans to attend receiving a ticket to an exclusive river cruise transporting fans to the match in style - thanks to Sealink.
Across the river, Crystal Palace fans are warming up for the game at the Crystal Palace Pre-Match Party featuring special guests from 12:00pm at the Leederville Hotel.
Aston Villa's biggest fans will be at the Official Fan Party featuring players from the First Team Squad at The Raffles Hotel in Applecross from 4:00pm.
While Manchester United fans should head to the PICA Bar from 4:00pm for the Meet the Legend event with Treble Winner Andy Cole.
Don't miss out on heading to Optus Stadium for match one of ICON, Crystal Palace v Leeds United - with kick off at 6:05pm.
Saturday 23 July
Aston Villa fans get ready for the game at The Raffles Hotel from 12:00pm. Club Legend Peter Withe will meet the crowd at the Official Pre-Match Party ahead of the Lions' match against Manchester United.

Manchester United fans will meet at PICA Bar from 12:00pm for the Official Pre-Match Party. Treble Winner Denis Irwin will be there to meet fans and preview the match against Aston Villa.
Then fans can head to Optus Stadium for the second match of ICON, with kick off at 5:45pm.
See your club at ICON - get your tickets now!
Palace Events
Leeds Events
Man Utd Events
Villa Events