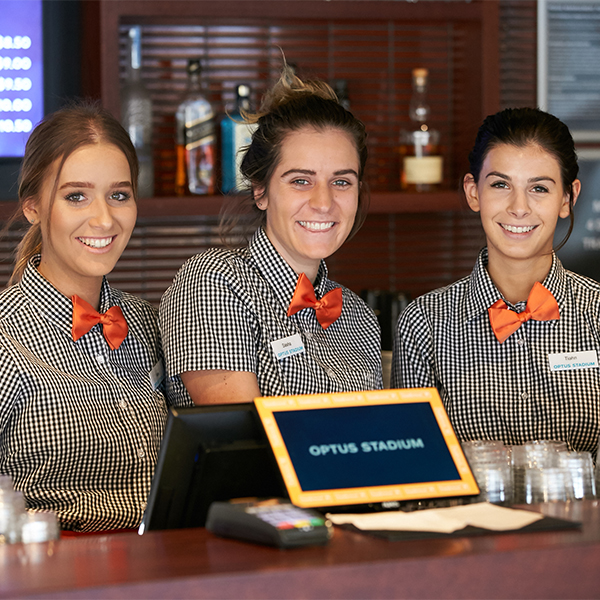 Join The Waiting List
There are only 1,385 Bankwest Club memberships available. Joining the Bankwest Club waiting list gives you priority to become a member if/when a membership becomes available.
Bankwest Club Benefits
Members of the Bankwest Club at Optus Stadium are rewarded with exclusive year-round access to a totally new level of in-Stadium experience that can be shared with family, friends, colleagues and clients.
Each premium reserved seat, which is fully transferable, in the exclusive Bankwest Club provides access to all Events1 held at Optus Stadium, including free access to:
Every West Coast Eagles and Fremantle Dockers game, so you will never miss a Derby!
All major Cricket Test Matches, One Day/T20 Internationals and Scorchers Big Bash League matches, including finals.
Rugby Union International matches,
Rugby League matches.
Major football (soccer) matches.
Every major international and Australian concert played at the Stadium.
Plus:
A guaranteed right to purchase your Club Seats for all Eagles and Dockers home finals.
Subject to such rights being secured, the opportunity to purchase tickets for Major Events and Special Events1.
In addition to the Bankwest Club's unequalled schedule of events, Club members enjoy:
Flexible transfer and associate member privileges to share your Club Seats with family, friends and colleagues. (See Club FAQs for more information).
Preferential access to premium food and beverages and facilities in the adjoining Club terrace.
Year-round access to Optus Stadium's two signature restaurants.
Digital access that enables easy electronic sharing of your Club Seats with your family, friends, colleagues and clients.
Complimentary Membership to both the West Coast Eagles and Fremantle Dockers entitling you to all of their additional member benefits.
Access to all benefits available to Perth Scorchers Standard Members.
Whilst the initial allocation of seats has been fully subscribed, individuals or businesses who missed the opportunity to secure seats in the first allocation are encouraged to register below for the waiting list.
It is anticipated that from time to time there will be a small number of seats that may become available. Those registered on the waiting list will have the first opportunity to apply for any remaining seats.
Waiting List registrants are added to the waiting list in order of registration and contacted on a first-to-apply basis should any Bankwest Club Seats become available. Any Club Seats which do become available will be offered for purchase to waiting list registrants on a first-to-apply basis.
All Bankwest Club waiting list registrants will be contacted by 31 January each year with an updated waiting list status. Registrants will also be provided with other great event offers and opportunities by email, and can opt out at anytime should they wish. To join the Bankwest Club waiting list, submit your details below and confirm your acceptance of the Bankwest Club waiting list terms and conditions.
Important Information
For full details of the rights and obligations of Bankwest Club Members, please refer to the Bankwest Club Terms and Conditions.
1Excludes (1) Major Events such as the Olympic Games, Commonwealth Games, FIFA World Cup, the ICC Cricket World Cup and T20 World Cup, the IRB Rugby World Cup, Rugby League World Cup or the World Athletics Championship, (2) Special Events such motor-sport entertainment shows, mixed martial arts events and boxing (but for both Major Events and Special Events, the Stadium Operator will use reasonable endeavours to secure access to these events which if secured will be subject to payment of an additional ticket fee) and (3) private events and/or events where the sale of tickets are either restricted or not offered to the general public.
2The contract term for Bankwest Club Seats is five years, with the first right to renew or exit at the end of that 5 year term. Applicants can secure Club Seats for an annual fee of $6,252 per year (inclusive of GST) for the 2021 calendar year. The annual fee for subsequent years will be indexed annually by CPI.
3Bankwest Club Members will receive free access to all concerts held at Optus Stadium. Due to the position of the stage in concert mode for most concerts Club Members will not be allocated their Club Seats, but will be provided with alternative seats.